DEE SNIDER OF TWISTED SISTER JOINS AVANTASIA!
'We're Not Gonna Take It', 'I Wanna Rock', 'The Kids Are Back'... There's hardly any Rock fan around the globe who isn't familiar with the big hits of Rock icons TWISTED SISTER, whose frontman Dee Snider is going to appear on the forthcoming AVANTASIA album 'GHOSTLIGHTS' (out on January, 29th). Besides mastermind Tobias Sammet, vocalists who have been confirmed for the new chapter of the Metal Opera are Geoff Tate (ex-Queensryche, Operation Mindcrime), Jorn Lande, Bob Catley (Magnum) and Michael Kiske (ex-Helloween, Unisonic). More singers are going to be announced soon.
Tobias comments: "I've always been a fan of Twisted Sister and Dee Snider in particular. He is entertaining, flamboyant, energetic, loud, tongue in cheek, colourful and mean! When I was young, I remember that he was the kind of character that I wanted to be. A crossing between peacock, jackal and Bugs Bunny. I loved it! On "Ghostlights" Dee is gonna be a ghost, and what a ghost he is. Great performance. Dee, welcome to the Avantasia family!"
Information about the album, the tour, and all other things Avantasia at avantasia.net.
Joe Bonamassa performs free concert to celebrate 10 years of playing live in the UK
GUITAR GOD FULFILLS PROMISE! JOE BONAMASSA PERFORMS A SPECIAL ONE OFF FREE CONCERT:
MR. KYPS IN POOLE, DORSET
UK fans can apply for tickets to this special free concert from this dedicated web link - http://jbonamassa.com/contest/2015/mr-kyps-free-concert/.
Guitar legend Joe Bonamassa fulfils a promise that he made 10 years ago and performs a special UK concert, celebrating the 10th Anniversary of his first-ever UK show. On November 1st 2015, Joe will play Mr. Kyps in Poole, Dorset, the same venue where he played his first ever UK concert back in 2005.
In 2005, venue owner Mark Kyprianou (Kyp) was approached to host Joe's first ever UK concert, As Joe was an unknown, the concert was a slow seller. In a final push, Kyp decided to offer free entry and refunds to those few who had originally paid the £10 ticket. Only around 100 people attended the concert, but those who were there were stunned by Joe's dynamic and virtuosic playing. Today, 10 years later, Joe is playing concert arenas around the globe!
Kyp and Joe formed a lasting relationship over the years. Says Kyp, "I'm very excited to host this one of a kind concert. No major artist at the level Joe is would do this for his or her fans. Joe made me a promise he would return, and is a man of his word!"
The concert dovetails Joe Bonamassa's 8-date October 2015 UK tour. Tickets are available from www.eventim.co.uk or 0844 493 6666.
JOE BONAMASSA - OCTOBER 2015 UK TOUR DATES
Newcastle Metro Arena Wednesday Oct 21
Liverpool Echo Arena Friday Oct 23
Leeds First Direct Arena Saturday Oct 24
Nottingham Capital FM Arena Sunday Oct 25
Cardiff Motorpoint Arena Tuesday Oct 27
Bournemouth BIC Wednesday Oct 28
Brighton Centre Friday Oct 30
Brighton Centre Saturday Oct 31
AN EVENING WITH JOHN GARCIA
The desert rock legend announces Unplugged Tour 2015!
He is the most distinctive voice of the entire desert & stoner rock scene: After his critically acclaimed solo album in the summer of 2014 via Napalm Records, JOHN GARCIA (Kyuss, Vista Chino, Hermano, Unida, Slo Burn) has just announced an exclusive, intimate acoustic tour!

Catch JOHN GARCIA live on stage, when the legend of desert rock returns to Europe for some very special nights! Joined by Ehren Groban on acoustic guitar, these shows will be more than special for every fan – as JOHN GARCIA will be playing everything from his career on this unplugged tour: From Kyuss, Vista Chino to his highly acclaimed solo album.

John Garcia about the upcoming acoustic tour: "Really looking forward to doing this acoustic run, again, I'm doing something I've never really done before and I'm really excited about it. This acoustic run I plan to do a little bit of EVERYTHING....get ready!"

Presented by Visions, Classic Rock Magazine, Slam, Tracks and Rock Hard Italy, make sure to catch JOHN GARCIA live at:

AN EVENING WITH JOHN GARCIA - Unplugged Tour 2015
support: Bellhound Choir

01.12.2015 NL - Tilburg, Little Devil
02.12.2015 NL - Leiden, Gebroeders de Nobel
03.12.2015 UK - London, Underworld
04.12.2015 F - Paris, L'Archipel
06.12.2015 GER - Bielefeld, Heimat + Hafen
07.12.2015 GER - Bochum, Rock Palast
08.12.2015 CH - Zürich, Plaza
09.12.2015 CH - Lausanne, Le Bourg / Masterclass
10.12.2015 I - Milano, LoFi Club
11.12.2015 I - Arbizzano (VR), Officina Degli Angel
12.12.2015 I - Pisa, Borderline Club
13.12.2015 GER - München, Kranhalle
15.12.2015 GER - Frankfurt, Zoom
16.12.2015 GER - Dresden, Groovestation
17.12.2015 GER - Jena, F-Haus

VALIENT THORR The Baddest Band In The Land 15 Years Running Signs With Napalm Records!
| | |
| --- | --- |
| | |
VALIENT THORR are the baddest band on the planet (from another planet). They have been rocking their adopted home of Earth since arriving here from Venus over fifteen years ago. With six albums under their belt they have now joined forces with Napalm Records for the release of their seventh! This MC5/James Brown inspired quintuplet have stood the test of time morphing in and out of what Motorhead frontman Lemmy Kilmister calls simply- Rock N'Roll.

"After wandering around space last year contemplating all the wild things that are going on in the universe... we are proud and super excited to announce that we have signed a new deal with Napalm Records. So get ready for a new album (our seventh) in TWO THORRSAND SIXTEEN", says frontman Valient Himself.

Napalm Records A&R Demetri Benoist said about the signing of VALIENT THORR: "Who doesn't like good time Rock N' Roll, getting a chance to work with VALIENT THORR means one thing, we are all in for one hell of a ride."

VALIENT THORR will be heading into the studio this November to begin recording their new album that will be released in spring 2016! Before VALIENT THORR make their way to the studio, they are going to fly over to Europe for the 'Intergalactic Roadwarriors Tour" with special guests Black Bone and Child. With their Thorriors in tow, check them out when they roll through your town, and soon you'll be letting your freak flag fly too.
Intergalactic Roadwarriors Pt 1 Tour
w/ Black Bone, Child

02.10.2015 CH - Pratteln, Z7 Up in Smoke Festival 2015
03.10.2015 I - Milano, Lo Fi Club
04.10.2015 I - Roma, Init
05.10.2015 I - Bologna, Freakout Club
06.10.2015 A - Innsbruck, PMK
07.10.2015 A - Vienna, Viper Room
08.10.2015 GER - Berlin, Urban Spree
09.10.2015 GER - Giessen, Dietrich
10.10.2015 NL - Haarlem, Patroonaat
11.10 2015 B - Antwerp, Trix, Desertfest Belgium 2015
12.10.2015 UK - London, The Dome
13.10.2015 F - Paris, Glazart
14.10.2015 F - Nantes, Le Ferrailleur
17.10.2015 GER - München, Feierwerk, Keep It Low Festival 2015
18.10.2015 GER - Nürnberg, KV
19.10.2015 GER - Jena, Rosenkeller
20.10.2015 GER - Osnabrück, Bastard
21.10.2015 DK - Kopenhagen, Loppen
22.10.2015 GER - Kiel, Schaubude
Valient Thorr:
Valient Himself
Eidan Thorr
Storm Thorr
Daimos Thorr
Iggy Thorr

For More Info Visit:
www.facebook.com/valientthorr https://twitter.com/ValientThorr www.valientthorr.com/
www.napalmrecords.com www.facebook.com/napalmrecords
MONSTER MAGNET Streaming New Song Via High Times!
Cobras and Fire (The Mastermind Redux) out October 9th on Napalm Records!
Dave Wyndorf and his henchmen seemingly had the time of their lives when they completely rearranged and boosted Last Patrol 2014 and christened it Milking the Stars: A Re-imagining of Last Patrol!

Now MONSTER MAGNET go back even further to 2010 and their Mastermind album. Even if you know the album inside and out you won`t be prepared in the slightest for the trip that is Cobras and Fire (The Mastermind Redux): just think of the beast Apocalypse Now turned into in its Redux form. Familiar elements drift by and are swallowed whole by thundering psych orgies – Wyndorf often focuses on a singular song fragment and turns it into his ride to total Nirvana. Go look for your daily dose of average rock elsewhere: this is the mindfuck of the year! The album will be released October 9th on Napalm Records.

With just over a week away from the album's release MONSTER MAGNET has partnered up with HighTimes.com the online home of High Times Magazine for an exclusive premiere of a new song from Cobras and Fire (The Mastermind Redux). Get a first listen to "She Digs That Hole" HERE.

The first single "Mastermind '69" is available as an audio stream HERE. A lyric video for the song "Watch Me Fade" can be seen HERE.

Cobras and Fire (The Mastermind Redux) will be released on Napalm Records October 9th. Pre-order your copy on iTunes HERE and via the Napalm Records Webstore HERE.

Cobras and Fire (The Mastermind Redux) Track Listing:
She Digs That Hole

Watch Me Fade

Mastermind '69

Hallucination Bomb

Gods and Punks

The Titan

When The Planes Fall From the Sky

Ball of Confusion

Time Machine

I live Behind the Paradise Machine Evil Joe Barresi's Magnet Mash Vol.1
For More Info Visit:
www.zodiaclung.com www.facebook.com/monstermagnet www.napalmrecords.com
HCSS - Cemetery Tour
Hardcore Superstar teams up with Michael Monroe for a Co Headlining tour around Europe this fall. The band also release their new singel "The Cemetery" today along with a brand new music video for "Touch the Sky" feat. Etzia that was filmed at Götaplatsen in Gothenburg late this summer.
Tour Dates Europe:
Fri Oct 09 The Library - Birmingham, ENGLAND
Sat Oct 10 Corporation - Sheffield, ENGLAND
Sun Oct 11 Cathouse - Glasgow, SCOTLAND
Mon Oct 12 Club Academy - Manchester, ENGLAND
Tue Oct 13 Waterfront - Norwich, ENGLAND
Thu Oct 15 Electric Ballroom - London, ENGLAND
Fri Oct 16 Le Forum - Vaureal, FRANCE
Sat Oct 17 Hirsch - Nürnberg GERMANY
Sun Oct 18 De Kreun - Kortrijk, BELGIUM
Tue Oct 20 Zoom - Frankfurt, GERMANY
Wen Oct 21 Backstage Halle - Munich, GERMANY
Thu Oct 22 ROFA - Ludwigsburg, GERMANY
Fri Oct 23 Borderline - Pisa, ITALY
Sat Oct 24 Rock Planet - Ravenna, ITALY
Sun Oct 25 Live Club - Milan, ITALY
Tue Oct 27 Z7 - Pratteln, SWITZERLAND
Wen Oct 28 Zakk - Dusseldorf, GERMANY
2015-10-30 Stockholm Annexet (Rocktoberfest)
2015-10-31 Linköping Doom Nightclub
2015-11-12 Luleå Kulturens Hus
2015-11-13 Umeå Idunteatern
2015-11-20 Gävle Dirty Harrys Rockbar
2015-12-04 Uppsala Flustret
2015-12-05 Sälen ICE
2015-12-12 Falkenberg, Falkhallen
2015-12-19 Malmö KB
2015-12-26 Rättvik Rättvik Bowling & Krog
ColdSpell to tour Sweden with Michael Schenker's Temple of Rock!
Swedish hard rockers ColdSpell are confirmed to support Michael Schenker's Temple of Rock for the Nordic leg of their Spirit on a Mission world tour dates. Michael Schenker is a true legend and to many the greatest guitar player around, winning awards, getting rave reviews for his albums and when touring the world.
ColdSpell is a rising star on the international stages. This summer they were one of the headliners at Scotland's premier festival, Wildfire. And was warming up a US audience as runner‐up to Judas Priest at Rock Fest in Wisconsin.

Micke Larsson, guitarist and founder of ColdSpell, says "Michael Schenker's guitar playing was a great inspiration growing up and listening to UFO. The '79 live album Strangers In The Night got spin after spin on the turntable, two got so many scratches so I am now on my third copy. It is great honour to share stage with Michael Schenker for these shows."

Gig dates February 2016

February 3 Amager Bio, Copenhagen (DK)
February 4 Debaser Medis, Stockholm (SE)
February 5 KB, Malmoe (SE)
February 6 Union Scene, Drammen (NO)

More information can be found here:

www.michaelschenkerhimself.com/tour.php
www.coldspell.se
www.facebook.com/ColdSpell‐164708699316
ZGARD reveal cover, set release date for highly anticipated fifth album via SVARGA
The Ukrainian one man-institution Zgard, unmatched when it comes to folk-influenced atmospheric pagan black metal, now reveal their fifth album, titled Totem, which is dedicated to the Veles, the old Slavonic god of sorcerers. Dipped into a conspirative and penumbral atmosphere showing a foggy and fiery scenery of rituals, the listener is taken on a journey that's fast-moving and opaque. The interplay of speeding drums, torrential vocals, and acoustic elements such as light flute, plucked guitar, and airy voice interludes promise an alternating bath of emotions. If you like to be drawn and drowned by such a folkish mood, Zgard will make your day.

The decision to form Zgard was taken by Yaromisl in autumn 2010. At this time, he was finishing the recording of Goverla's second album, which, due to various reasons, he decided to release under a new name. The quest for a name wasn't long: Zgard is a synonym for "amulet" in the culture of Huzuls, an ethno-cultural group who for centuries have inhabited the Carpathian mountains. Yaromisl wears such zgard from the time he obtained one in the Carpathian highlands and until now.

The Zgard debut album, The Spirit of Carpathian Sunsets, was intended to be released in 2011, but the release date eventually shifted to 2012. In recording this album, Goverla's flutist Hutsul took part, who recorded parts of woodwind instruments. The album includes not only the songs written for Goverla, but also a new track which gave a title to the album and formed a concept and the style of Zgard: atmospheric black metal with strong influence from Carpathian folklore and a pagan outlook.
Without wasting any time, Yaromisl worked on the next songs for a second album, Reclusion, which was released in January 2012, even earlier than the debut. In 2013, the third opus, Astral Glow, was released, but activities didn't slow down: Zgard took part in a split CD, Ascension: Paramatman, with Romanian band Prohod, which was released in February 2014. Work then began on a new album.

At the beginning of 2014, with help of a session drummer and vocalist Dusk (Stryvigor, Endless Battle), the recording of the fourth full-length album, Contemplation, was finished. It was released in June 2014 by Svarga Music as a standard CD and a digipak limited to 100 copies. Right after the release, at the end of summer 2014, Yaromisl starts the recording of a new opus, Totem, dedicated to Veles, the ancient Slavonic god of sorcerers. In 2015, the recording sessions were finished, and release is scheduled for November 27, 2015 by Svarga Music - as before, in standard CD and hand-numbered digipack limited to 100 copies.

Zgard is truly a remarkable phenomenon in the Ukrainian metal scene. Geographically located far from Ukraine's music centres, like Kharkov and Kiev, Yaromisl managed to create his own unique style. Is it the nature of the Carpathians, or residence near the mountain Bogit, where was located a Zbruch Idol (9th-century Svetovid sculpture and one of very few monuments of pre-Christian Slavic beliefs), which so influenced Yaromisl to create the music of Zgard? Either way, the result speaks for itself! Cover and tracklisting are as follows:

Tracklisting for Zgard's Totem
1. Dismal Visions (intro) [Марево]
2. Land of Legends [Край легенд]
3. Descendants of the Thunder [Нащадки грому]
4. Totem [Тотем]
5. Sorrow [Журба]
6. Forgive Us Nature [Пробач природа]
7. Dark Lord of the Carpathians [Темний володар Карпат]
8. The North [Північ]

THE GREAT DISCORD to make UK debut with Dead Soul in London
Sweden's THE GREAT DISCORD, who just unleashed their debut full-length album 'Duende' in June to much critical acclaim and a digital EP 'Echoes' have just announced they will make their U.K. debut supporting Dead Soul at the Islington O2 Academy, London on October 8, 2015.
The band are so looking forward to this:
"Being our first trip abroad with the band, the fact that we're able to make it to London and to share the stage with our good friends in Dead Soul makes this show extremely special for us. A first of many to come."
Dead Soul + THE GREAT DISCORD
October 2015
8th LONDON – O2 Academy Islington
Their new EP Echoes is now available for streaming on Spotify and will be available at other digital outlets and streaming services such as iTunes, Amazon, Google, Apple Music, and Rdio. It contains a version of the track "The Aging Man" performed simply with a piano and Fia Kemp's striking vocals (music video coming shortly!), two cover tracks, and radio edits for their songs "The Aging Man" and "Ephemeral." Listen now on Spotify HERE: https://play.spotify.com/album/47aPeEJ5pDUNKZWUgwZgZV?play=true&utm_source=open.spotify.com&utm_medium=open
Sweden has been a fertile ground for metal of all varieties for multiple decades, and there appears to be no sign that this will change anytime soon. The variety and quality of bands is staggering, and Metal Blade Records is prepared to help add THE GREAT DISCORD to the list of one of Sweden's finest new groups. The band's cornerstone is with the enigmatic vocals of Fia Kempe. Her tone and delivery is immensely emotive and is augmented by a band whose sound is impossible to describe. It's technical, heavy, and yet not so much to overwhelm those not anointed in metal. What's important is that THE GREAT DISCORD offers a truly unique twist on both metal, and what is to be expected from a female-fronted band.
One of the most unique things about THE GREAT DISCORD is their visual presentation, which has been showcased not only in their live performance, but also in a series of video teasers and a full-length video for their album single "The Aging Man" that can be viewed HERE: https://www.youtube.com/watch?v=UEKcl8MzWLQ
THE GREAT DISCORD is:
Fia Kempe - vocals
Aksel Holmgren - drums
André Axell - guitars
Gustav Almberg - guitars
Rasmus Carlson - bass
Follow THE GREAT DISCORD online: https://www.facebook.com/thegreatdiscord
https://twitter.com/thegreatdiscord https://instagram.com/thegreatdiscord
THE GREAT DISCORD's full-length debut Duende made Revolver Magazine's Album of the Week on 6/08/15.
"With a deliberate inharmonious approach that keeps the listener on his/her toes, one can never predict where each song takes you. Imbalance, disharmony, discordancy, disunion are all words that describe the mix of sounds on 'Duende,' all which center around the strong vocals of Fia Kempe to create a beautiful work of art" Metal Underground
"The Great Discord are brave musicians ho embrace disharmony in the way of unpredictable melodies and adventurous songwriting… An open mind and ear are prerequisites for this album, but the rewards are great." Terrorizer Magazine
"Together with the powerful production [Duende] creates a strangely unsettling atmosphere that is hard to put into words. You just have to hear it for yourself." 9/10 Metal.de
"They swoop brutally over a raw, dramatic, cinematic and multi-colored canvas where not a single space left to chance" Sweden Rock
Masterplan - Keep Your Dream ALive
First ever live release by melodic metal kings MASTERPLAN.
Includes (DVD and BluRay) entire concert from Masters Of Rock festival 2014, as well as Wacken 2014, footage from Asia tour, footage from Prog Power USA and all official MASTERPLAN video clips. The Masters Of Rock show is featured on the CD.
Mixed and mastered by Roland Grapow.
Release 9th October 2015. Don't Forget.
Heads up from Alexx Michael about Cherie Currie UK Tour
Less then 2 month before we hit the road. 8 shows in the UK with Cherie Currie, Tommy Wagner, Danny Raygun & Mike HB. I of course will play bass.
We will play all The Runaways songs, some of the new Cherie Currie record Reverie which will be available at all the shows, some of the SHAMELESS classics & some really cool covers.
We will also have some brand new Cherie Currie Merchandise incl. CD's, Posters, Pictures and some Shirts. One of the Shirts is designed by Nick Airo Smith who also did some amazing shirts for KISS.
When our Booking Agent Alex Grossi isn't rocking the stage with his band Quiet Riot, he is already checking for more Festivals & shows for next year.
The London Show will be a really special night cause we will record the first ever Cherie Currie Live CD and film the show as well.
Cherie & I also wrote the song Rock n Roll Rosie for the upcoming Suzi Quatro Movie which features other Rock Legends like the one and only Alice Cooper and will be out next year.
10th Nov 2015- Railway - Bolton, UK
11th Nov 2015 - Bannerman's - Edinburgh, UK
12th Nov 2015 - Yardbirds - Grimsby, UK
14th Nov 2015 - The Globe - Newcastle, UK
15th Nov 2015 - The Diamond - Sutton, UK
16th Nov 2015 - Bierkeller - Bristol, UK
17th Nov 2015 - The Robin 2 - Bilston, UK'
18th Nov 2015 - The Underworld - London, UK

For more information please visit - https://www.facebook.com/CherieCurrieTour/
Swedish doom purveyors Sorcerer premiere video for "Prayers For A King"!
Swedish epic doom metal legends SORCERER made quite an impact with their Metal Blade debut "In The Shadow Of The Inverted Cross" upon its release in March of this year. Today, SORCERER has launched the second video from this majestic doom opus. Watch "Prayers For A King" now at metalblade.com/sorcerer!
The band comments on the video: "Making this video was the brainchild of Daniel Nyqvist, he did a great job! We tried to reflect the story from the lyrics and Daniel made a fantastic job on this video. 'Prayers For A King' is one of the more epic and gloomy songs on the album, enjoy!"
Order your copy of "In The Shadow Of The Inverted Cross" at www.metalblade.com/sorcerer and make sure to check out the first video for "The Dark Tower Of The Sorcerer" at the same location.
SORCERER live:
01/11/15 NL – Rotterdam – Dutch Doom Days
20/11/15 DE – Würzburg – Hammer of Doom
27/11/15 DE – Dortmund – Leafmeal
10-13/03/16 UK – Haven Holidays Park – Hammerfest
SORCERER was formed in Stockholm, Sweden in 1988 but disbanded after two demos in 1992. Both demos are considered true Doom Metal classics and have been released on CD in 1995. In 2010 the band came back together to play the Hammer of Doom festival in Germany and a year later the Up The Hammers festival in Athens, Greece. Both shows were received extremely well and the thoughts of putting together a new album started to take form. In the end it took over two years to write, arrange and record it but the result is nothing but pure, heavy epic doom metal. The process of putting all bits and pieces together and making it ready for mix and mastering was the work of drummer Robert Iversen, also a very fine recording engineer, who was acting as the spider in the recording web. The album was mastered by Jens Bogren (Opeth, Amon Amarth, Devin Townsend).
With years of professional experience and top-class instrumental abilities among its band members the SORCERER of the 21st century is determined to deliver epic doom metal for many years to come; on record and on stages all around the world!
SORCERER is:
Anders Engberg - vocals
Kristian Niemann - guitars
Peter Hallgren - guitars
Johnny Hagel - bass
Robert Iversen - drums
https://www.facebook.com/sorcererdoom http://www.sorcererdoom.com/
DESTRAGE
launch high quality "My Green Neighbour" drum tutorial!
Italy's Destrage have launched a brand new drum video for "My Green Neighbour," as performed by their exceptionally dexterous drummer, Federico Paulovich. Watch how the song is played in exceptional detail on Destrage's official YouTube channel HERE ; https://www.youtube.com/watch?v=n6Nsj3O-QYw . It should be noted that what fans are seeing here is a fresh studio recording, not a video simply synched to album audio! This is how it's played, and how it actually sounded when the video was recorded! The video was recorded at RecLab studios, and audio was mixed by Adam "Nolly" Getgood from Periphery.
Paulovich offers his thoughts on the video: "It's been a while since we've been talking about making a drum video of a song from "Are You Kidding Me? No.". The choice of the song came up pretty easily, since "My Green Neighbour" seems to be one of the most interesting from a drummer's perspective, as well as one of the most entertaining for non-drummers in general. The idea was to make a fun "sequel" of the previous drum video we did in 2012 for the song "Double Yeah", so we just put together that concept with the zombie theme, to better fit with the mood of the song. We had tons of fun shooting this video, plus it's always a great pleasure for me to work in a such high-level studio environment, with great pros such as Larsen and, last but not least, our friend Nolly from Periphery, who did an incredible job mixing this track! I can't wait for the video to come out and hope you enjoy it!"
Destrage are wrapping up an exceptionally busy 2015, which included performances at Bloodstock in the UK, a tour of Japan, and a batch of summer European festivals in Italy and beyond. Up next, Destrage will be performing as part of the Euroblast Festival in Germany alongside label mates Between the Buried and Me, plus Cynic, Kahen, and many more. Visit euroblast.net for the lineup, tickets, and information.
Watch Destrage's music videos for songs from Are You Kidding Me? No. online now:
Where the Things Have No Colour - https://www.youtube.com/watch?v=SO0C_FfCVgw
Destroy Create Transform Sublimate - https://www.youtube.com/watch?v=CosqKDW39NU
Purania - https://www.youtube.com/watch?v=C4TO-LqP_Cs
My Green Neighbour - https://www.youtube.com/watch?v=JPRr1RELgho
Destrage is:
Paolo Colavolpe - vocals
Matteo Di Gioia - guitar
Federico Paulovich - drums
Ralph Guido Salati - guitar
Gabriel Pignata - bass
Follow Destrage online: http://www.destrage.com http://www.facebook.com/destrage http://www.youtube.com/destrage http://twitter.com/destrage
http://instagram.com/destrage_official http://www.soundcloud.com/destrage
FIND ME 'Dark Angel' - the sophomore album from the Trans-Atlantic duo featuring Robbie LaBlanc and Daniel Flores out in December on Frontiers
Frontiers Music Srl is pleased to announce the release of FIND ME's new album, entitled "Dark Angel", on December 4th in Europe and North America.
FIND ME is a collaboration between Swedish musician, songwriter and producer Daniel Flores (Issa, The Murder of My Sweet, Seventh Wonder) and singer Robbie LaBlanc from Blanc Faces. The partnership was put together by Frontiers President, Serafino Perugino with a vision to unleash another AOR behemoth. FIND ME's debut album, "Wings of Love" received excellent reviews and left fans begging for more music from the duo! No demands could have been easier to fulfill as the two guys just love working together and finding the right songs for the group from contributors the likes of Alessandro Del Vecchio, brothers Tom and James Martin (Vega, Issa), Soren Kronqvist (Sunstorm), Niclas Olsson (Alyson Avenue) or Philip Lindstrand (Strong) is never a problem.
"Serafino of Frontiers and I searched for new songs and fresh ideas from writers from all over the world" tells drummer and producer Daniel Flores. "I personally was searching for a musical challenge and Serafino with his golden ears is always looking for the next big song. It's the combination of the two mentalities, with Robbie's ability to sing and work on melodies that made this album what it is." According to Robbie LaBlanc: "Daniel really understands how to create an awesome AOR record. He allows me some flexibility in the melodies and is a pleasure to work with and a true pro."
The result is once again a delightful and massive melodic rock record, chock full of mighty anthemic AOR songs with Robbie's soaring lead vocals and amazing performances from Daniel Flores and guitarist Philip Lindstrand! Sonically, this powerhouse album sits in between the classic sound of Journey and Giant and newcomers like W.E.T and Eclipse. "To be honest, in the first album, all involved tried to find the right combination of all the elements we love in AOR music" adds Daniel. "Now we feel more confident on what people will like. Productionwise everything just came naturally in place in this recording. Also Robbie sings even better than on last record and that's no small accomplishment really."
"I feel I connected with these songs really nicely" adds Robbie. "It's funny of all the demos I received from Daniel I think we only changed one key. It's like they were written right for me!"
"I hope we get to give the AOR fans the same feelings they got when they discovered this music for the first time," concludes Daniel, "We try to remind people of how the old records where done in this style, with the same mentality and complete devotion but with the cutting edge sound and quality engineering that technology has brought to date. Also, we hope to have chances to play for the fans live next year."
"Dark Angel" is just another unmissable album for the AOR crowd from Frontiers.
"Dark Angel" tracklisting includes: Nowhere To Hide; Let Love Rule; Forever; Another Day; Dark Angel; Bleed In The Rain; Face To Face; Where Do I Go; Midnight Memories; Don't Slip Away From Me; Did You Feel Any Love; I'm Free.
FIND ME is:
Robbie Lablanc - Lead and background vocals
Philip Lindstrand - Rhythm and lead Guitars, Bass
Sören Kronqvist - Keyboards
Daniel Flores - Drums and Keyboards
Additional musicians:
Angelica Rylin - Vocals on "Another day"
Christopher Vetter - Lead guitars and Clean Guitars
Backing vocals: Robert Lablanc, Philip Lidstrand, Thomas Vikström, Angelica Rylin, Redas Jefisovas and Daniel Flores
Seminal NWOBHM Rockers' October UK Tour Confirmed Following Rave Reviews Of New Studio Album 'ExtermiNation'
Seminal British heavy metal trio Raven have lined up an October UK tour in the wake of a slew of rave reviews of their new studio album 'ExtermiNation', released in Spring 2015 on Steamhammer / SPV. Dates are:-

20th Oct BIRMINGHAM - The Asylum

21st Oct. CHESTER - The Live Rooms

22nd Oct. GLASGOW - Audio

23rd Oct. BELFAST - Limelight 2

24th Oct. NEWCASTLE - Think Tank

25th Oct. LONDON - Underworld

Formed in Newcastle in 1974 by brothers John and Mark Gallagher, Raven soon developed their own unique, highly energized 'Athletic Rock' live rock show; wearing guards, helmets and plates from various sports such as hockey, baseball etc, the manic interaction between band members (let alone the audience!) was guaranteed to be electrically charged.

By the end of the decade Raven had signed to Neat Records, the legendary low budget label from the North of England, who released the band's ground breaking debut album 'Rock Until You Drop', which was awarded a five star review by legendary scribe Geoff Barton in Sounds, in 1981. Both 'Rock Until You Drop' and the follow-up, 'Wiped Out', released in 1982, breached the top 75 of the UK's national album charts.

Raven then signed to New Jersey's Megaforce label, who released their third album 'All For One' in 1983 and brought the band over to tour America with Metallica SUPPORTING them on their East Coast tour, on which Anthrax also played their first ever gig. Megaforce boss Johnny Zazula was so impressed he became their manager, brought them back over to the States to live and secured a major record deal with Atlantic Records. The band's 4th album, 'Stay Hard', in 1985, fared impressively on the Billboard Top 100 album chart, boosted by a Top 100 single and video for the track 'On and On'.

But then Atlantic pushed Raven along a more slick, lightweight, commercial path for the band's subsequent 2 albums, 'The Pack Is Back' (1986) and 'Life's A Bitch' (1987), which, apart from alienating the band's core fans, did little for their career and the label and band parted company in 1988.

Raven then dropped their outlandish image, returned to a more basic denim and leather look and released 'Nothing Exceeds Like Excess' on the Combat label, in 1988, just as grunge was taking off in the States. Raven soon returned to Europe and signed to SPV Records, who released 'Architect Of Fear' (1991), 'Glow' in 1994, 'Everything Louder' in 1997 and 'One For All' in 2000.

Then tragedy struck when a wall collapsed on guitarist Mark Gallagher in 2001, crushing his legs. Raven went on hiatus for most of the rest of the decade while Mark rehabilitated, before tentatively playing live again in the UK in summer 2008. Hugely encouraged by the crowd's reaction, Raven spent the rest of the year writing 'Walk Through Fire', which was recorded in Spring 2009 and released on SPV in March 2010.

Malcolm Dome reviewed the album in the magazine's May 2010 issue, stating that "Walk Through Fire' is the best record since 1985's 'Stay Hard'. What the band have done is strip away any pretensions towards maturity or becoming elder statesmen of metal and gone straight for the jugular. This is a no-holds barred, full-on attack. The sort of thing Raven do well. Led by bassist / vocalist John Gallagher, a man with a banshee wail so high he makes King Diamond sound like Cronos of Venom, Raven revel in songs like 'Breaking You Down', 'Bulldozer' and 'Armageddon (The Beginning)'. Those titles say it all. All fired up, Raven still deal in pure metal."

2011 and 2012 saw Raven regularly playing the European festival circuit, making a triumphant return to Japan, and playing their first shows in South America. 2013 brought a retrospective DVD entitled 'Rock Until You Drop - A Long Day's Journey' featuring a voluminous amount of never before seen footage of the band from 1982 onwards, along with interviews with Lars Ulrich (Metallica), Dee Snider (Twisted Sister), Michael Wagener (producer), Chuck Billy (Testament), and Dave Ellefson (Megadeth).

In the Summer and Autumn of 2013 Raven played their first full scale tour of the US since 1989, headlining on the East Coast and joining forces for a double headlining jaunt through the West Coast with fellow UK NWOBHM stalwarts Diamond Head. November/December saw the band playing Europe with old mates Girlschool as support, garnering rave reviews for their explosive performances.

In March 2014 Raven opened for Metalllica in Sao Paolo in front of 70,000 fans, and then set off on a 43 date headline USA tour, prior to returning to the UK to put down 'ExtermiNation' in the Autumn.

'ExtermiNation', an even more accomplished, intense, inspired, exuberant, true heavy metal offering than its predecessor, combines the melody/chaos/musicianship/lunacy that defines the band with songs that are simply the best Raven have recorded in decades. 'ExtermiNation' is the sound of a band totally on fire, of a unique power trio who have effortlessly pushed the envelope to up their game to the next level.

"The NENWOBHM (North East New Wave Of British Heavy Metal) veterans have unleashed a superpowered album of pure crackshot heavy metal, a listening experience akin to being hit square in the face by a Dalek's sink plunger…In a dour modern-day metal world, this is just so much fun. Raven's hellter skelter musical approach has always been laced with humour, and nowhere is this more evident than on bonus track 'Malice In Geordieland', which is sung in a near indecipherable Geordie accent and namechecks famous old haunts such as the Mayfair Ballroom. Elsewhere, the song titles tell the triumphal tale: 'Fight', 'Feeding The Monster', 'No Surrender', 'Fire Burns Within', 'Battle March / Tank Treads' (and holy shit, unlike many of his ailing peers, bassist / vocalist John Gallagher can still scream like he's been crushed under the aforementioned). 'Thunder Down Under', a suitably raucous tribute to Bon Scott, rounds off a peerless package. Howay the lads, this is proper mint. 8/10."

(Geoff Barton, Classic Rock Magazine – July 2015 issue.)
TOTO are pleased to announce our first set of shows for 2016 and their return to Europe!
Jan 28 2016 - Zenith - Strasbourg, France
Jan 29 2016 - Olympia - Paris, France
Jan 31 2016-ice rink meriadeck-Bordeaux, France
Feb 01 2016 - Zenith - Nantes, France
Feb 03 2016 - Zenith - Rouen, France
Feb 04 2016-the millesium-Epernay-Pierry, France
Cage Set To Release New Album In October
San Diego-based metallists CAGE are set to return on October 30th, with the release of their latest metallic tour de force, 'Ancient Evil,' which has been prefaced by a lyric video for the killer composition, "The Procedure".
"We really love how creepy the video came out, it's like a mini movie almost," explains singer Sean "The Hell Destroyer" Peck. "This song will give people a good idea of what they are in for on this massive, heavy metal, horror story thrill ride!" Rounding out the band are Dave "Conan" Garcia (guitars), Casey "The Sentinel" Trask (guitars), Alex "The Captain" Pickard (bass guitar), and Sean "The Thrash Machine" Elg (drums).
Based on a horror novel written by lead singer Sean Peck, 'Ancient Evil' continues the legacy of Cage as a heavy metal innovator. This nearly 80-minute monstrosity has 19 tracks that combine songs and narrated interludes to forge a unique musical journey that rocks!
However, according to Sean, making a concept record work is never an easy task - "With this being our 7th release, we wanted to try our hand at another concept album. We had great success with 'Hell Destroyer,' but doing a scary story type of thing and making the songs catchy and memorable while keeping the listener captivated by the content, is a real challenge."
The story's main character, Elliot Worthington, is played by none other than ex-Iron Maiden frontman Blaze Bayley. "I did not want to do any of the character voices this time, so we got some really great talent to act out the scenes. Blaze did an incredible job. His acting chops were freaking great, I have to say," says Peck. "The writing for this record came together effortlessly even though it was a concept record. It is pretty much just blazing fast the whole way through which is just how I like it!"
And soon, metalheads will be able to experience Cage's latest metal masterpiece.
'Ancient Evil' Tracklisting:
1) There Were Others
2) Ancient Evil
3) Behind the Walls of Newgate
4) The Procedure
5) The Appetite
6) Cassandra
7) Blinded By Rage
8) Tell Me Everything
9) The Expedition
10) Beholder
11) I Have Awakened
12) Across The Sea Of Madness
13) To Save Love
14) Christ Protect Me
15) Sinister Six
16) Symphony Of Sin
17) The Antidote
18) Tomorrow Never Came
19) It Can´t Be
Scorpions - Celebrating 50 Years of Rocking Like A Hurricane with a New Album, Tour & Theatrical Release
International rock superstars, Scorpions, continue to celebrate their 50th year in metal with a special one-night national screening event of their first theatrical release, the documentary film, "Forever And A Day," Wednesday, October 14th.
Link to the trailer: https://www.youtube.com/watch?v=KzTfIxUuTSA.
For more information on locations and tickets: http://www.The-Scorpions.com/ForeverAndADay/.
Presented by SpectiCast and Tempest Films, "Forever And A Day" captures the history of one of the most influential bands in music history – following them for 18 months with an insightful look into the dynamic that has kept them at the top of the metal community. Filmmaker Katja von Garnier accompanied the Scorpions on their 'Final Sting' dates - originally the band's farewell tour around the globe, from Bangkok via Los Angeles to Moscow, the resulting documentary "Forever and a Day" is a moving portrait of their unique history, packed with candid moments and Scorpions' memories, culminating with the decision to scrap their retirement plans. Klaus Meine adds, "I think it'll be a really special film for our fans."
The title, "Forever And A Day," outlines the philosophy Scorpions have internalized since their early days. In the Eighties of the past century, they wrapped it up in the slogan "Don't Stop At The Top" (allegorical: Never rest on your laurels). They simply are travelers, who always seek new challenges, overcoming all obstacles along the way.
Scorpions continue their global assault in support of their 19th studio album, Return to Forever (Sony Music/Legacy Recordings), just released September 11, with North American dates (see below). For additional info please visit www.The-Scorpions.com.
Founded in Hannover, West Germany in 1965, Scorpions were part of the first wave of metal in the 1970's with their debut album, Lonesome Crow, released in 1972. The band rose to arena status with seminal releases Lovedrive, Virgin Killer and Animal Magnetism. In the 80s, Scorpions amassed a string of Billboard chart toppers from Love at Fiirst Sting and Blackout, including multiple Top 10 singles "Rock You Like a Hurricane" and "No One Like You," as well a string of successful singles such as "Send Me an Angel," "Still Loving You" and "Wind of Change." The band was also ranked #46 on VH1's Greatest Artists of Hard Rock and their hit "Rock You Like a Hurricane" also landed as #18 on VH1's list of the 100 Greatest Hard Rock Songs. Celebrated across the globe, the iconic rock act have sold more than 100 million albums worldwide, and have received multiple honors including World Music Award winners, a postage stamp in Brazil, their Star on Hollywood Rock Walk, Echo honors, most recently they were honored with the Lower Saxon State Award.
Scorpions Return to Forever 50th Anniversary Tour, featuring longtime members Klaus Meine, Rudolf Schenker and Matthias Jabs, alongside James Kottak (drums) and Paweł Mąciwoda (bass), kicked off in May 2015 with dates on four continents. For these milestone shows Scorpions have built a career-spanning setlist of their hits, anthems, ballads and vintage classics. In September 2015, Scorpions released their 19th studio album, Return To Forever, and embarked on the first leg of their North American tour featuring special guests Queensryche.
About SpectiCast
SpectiCast is the fastest growing event cinema marketing and distribution company in the world, providing specialty film programs, cultural arts events, contemporary music programs, and other alternative content to over 4,500 theatrical and non-theatrical venues in 60 countries around the globe. SpectiCast provides content rights holders with turnkey access to theatrical and all downstream digital platforms including DVD, VOD and TV and has distributed programs from some of the world's most prestigious cultural arts organizations including the Strafford Festival, Opera de Paris, The Salzburg Festival, The Paris Opera Ballet, the Mariinsky Theatre, the British Museum, and the Philadelphia Orchestra. SpectiCast has also partnered with some of the world's most renowned entertainment companies including Universal Music, Sony, EagleRock Entertainment, and Fathom Events. SpectiCast is a privately owned and operated firm based in Philadelphia, PA. For more information please visit: www.specticast.com.
Remaining dates of the first leg of their North American tour:

Date City Venue
September 18 Toronto, ON Canada Molson Canadian Amphitheatre
September 19 Montreal, QC Canada Bell Centre
September 22 Columbus, OH LC Pavilion
September 23 Cleveland, OH Jacobs Pavilion at Nautica
September 25 Windsor, ON Canada Caesar's Windsor TBA
September 26 Chicago, IL Allstate Arena
September 29 Denver, CO Fiddler's Green Amphitheatre
October 1 San Jose, CA SAP Center
October 3 Los Angeles, CA The Forum
October 6 Santa Barbara, CA Santa Barbara Bowl
October 7 Las Vegas, NV Hard Rock Hotel
October 9 Seattle, WA ShoWare Center
Naked - End Game
Naked was founded in early 2000 by Mats Stattin, and along with Peter he has been influenced by Rock bands of the 1980's, in particular, Kiss, Along with Mats and Peter the line-up is completed by Tony Borg (Alien), Mikael Wikman Drums, and a well-respected Bass player Paul Logue (Eden's Curse) as a special guest! This quartet have come up with an album chock full of surprises that will appeal to fans of Scandinavian Hard Rock such as Treat, Alien, and Skagarack.
Naked do have their own identity and this shines through on the 12 tunes on offer here. Razor sharp riffs, layered keyboards and soaring vocals are the order of the day, all backed with a solid rhythm section, the sort you would expect from musicians of this caliber. A melodic rock dream!
It's really nice to see a new band rise up and inject a fresh slant on the melodic rock music scene; we think that you will warm to Naked in a very positive manner as they certainly have the ability to make their mark. This debut "End Game" is a great start to achieving their goal.
The band is:
Peter Sundvall - Lead and Backing vocals
Mats Stattin - Rhythm Guitar
Tony Borg - Lead Guitar, Keyboard Arrangements (Alien)
Paul Logue - Bass (Eden's Curse)
Shuji Matsumoto - Fretless Bass on "End Of Eternity"
Mikael Wikman - Drums
Pete Newdeck - Backing vocals and Piano on "End Of Eternity"
Jennie Jahns - guest vocals on Duet "end of eternity"
Produced by Tony Borg
Co-produced by Mats Stattin & Peter Sundvall
Mixing Engineer - Pete Newdeck, UK
Mastered by Mike Lind at Masterplant Sweden
Release Date: 20 November 2015
Track List: 1 .Silverthorn 2. Aim For The Heart 3.Blood Of My Blood 4.Leaving You Tonight 5.Born To Live For Love 6.Victoria Avenue 7.End Of Eternity 8. Setting Sails 9.Still In Love 10.The Great War 11.Love Ain't No Game 12.Destination Unknown
British AOR act BLOOD RED SAINTS to release debut album 'Speedway' -
out on Frontiers in December
Frontiers Music Srl announces the upcoming release of new British AOR band BLOOD RED SAINTS. Their debut album, entitled "Speedway", will be released on December 4th in Europe and North America.
BLOOD RED SAINTS is a new band formed in late 2014 by singer Pete Godfrey and bassist Rob Naylor. Pete made his recording debut on the October 2014 In Faith album, but hungry to be in a 'band' rather than a project, Pete formed BLOOD RED SAINTS with Rob from the band Angels or Kings and quickly got to work writing their debut album.
"I went in to the In Faith knowing it was a project," says Pete Godfrey. "We were offered shows but we couldn't find any common ground to move forward. That was the moment where I decided I wanted to be in a 'real band', one that goes out and plays live and has that 'us against the world' mentality. Without doubt, we are going to play live. We have a launch show December the 4th in Bolton, UK then we are playing the JSY/ARFM charity show in Derby at the end of January and also HRH AOR in March - working on more shows right now!"
BLOOD RED SAINTS lineup was completed by another former In Faith member, Pete Newdeck (also from Eden's Curse and currently the vocalist for Tainted Nation) on drums and Lee Revill on guitar (ex-Gary Hughes). "Pete and I quickly became good friends," says Pete. "It was a simple choice on my part to want him involved. Rob Naylor I knew from the 1990's, but we became friends last year, we just gelled as far as wanting the same things musically, again. Lee Revill was talked about by everyone on the local scene, his reputation was that of a phenomenal guitar player who hadn't made the jump from local bands. He is our secret weapon, unbelievably talented and not precious or egotistical at all, a genuine nice guy also!"
The search for a name ended with the chance discovery of a semi legendary Speedway team, "The Blood Red Saints". BRS were formed in the late 1920s in Brooklyn, New York. Their leader and icon, 'Freddie Rendetti' became synonymous with the team. Freddie was a fiery colorful character who ultimately lived the fast life a little too fast.
No history of the BLOOD RED SAINTS can be complete without the inclusion of James Martin of VEGA. James was instrumental in getting the band signed to Frontiers and – together with his twin brother Tom, he also co-wrote two songs on the album. Harry Hess from Harem Scarem took care of the mastering of the album.
The band's debut album is an impressive slice of classic British AOR, following in the traditions of early Dare, FM and Newman, though according to Pete, "if you were to take elements of Bon Jovi, Def Leppard, Winger, FM, mix them all together, I think that is pretty much where we are. Our intention was to have great songs and next we want to take them out live and put on a great show!"
"Speedway" is a classic in the making and BLOOD RED SAINTS are a band to watch out for!
"Speedway" tracklisting: Kickin' Up Dust; Mercy; Best Of Me; Dangerous; Love Set Me Up Again; Better Days; The Best Thing; Unbreakable; Wrapped Up In These Arms; Cgrnr; Feels A Lot Like Love; Faith.
BLOOD RED SAINTS
Pete Godfrey – vocals
Lee Revill - guitars
Rob Naylor – bass guitar
Pete Newdeck - drums
ROUSING MELODIC METALLER'S OCTOBER UK HEADLINE TOUR DATES ANNOUNCED
Freedom Call, Germany's premier Melodic Metal band, have lined up a headline tour of the UK next month, following their tumultuous, utterly uplifting, off-the-scale special guest slot with Sonata Arctica at London's Islington 02 Academy on May 2nd. Dates are:-
Thurs. 8th Oct. BIRMINGHAM The Roadhouse (+ Dragonhammer + Celestial Wish)
www.wegottickets.com/event/320779
Fri. 9th Oct. GLASGOW Audio (+ Dragonhammer + Farseer)
www.musicglue.com/audioglasgow/events/9-oct-15-freedom-call--guests-audio/
Sat. 10th Oct. SHEFFIELD South Sea - Co-Headliner with SILENT VOICES
(+Dragonhammer + Immension + Faster The Chase)
www.wegottickets.com/event/315992
Sun. 11th Oct LONDON The Borderline – with Special Guests Dragonhammer
www.ticketweb.co.uk/event/freedom-call-tickets/181011
Freedom Call, the 'happiest metal band in the world', released their 8th studio album, 'Beyond', to huge acclaim in February 2014. 'Beyond', which marked the return of founding member, bassist Ilker Ersin, and the addition of drum wizard Ramy Ali, was awarded 8/10 by Powerplay's Sam Khaneka, who stated in the March 2014 issue that "In the way that only Freedom Call can manage, the entirety of their latest, 'Beyond', exudes joy like nothing else, with elation essentially being the theme of every song. Sure, there are a couple of moments where the band delve into a slightly heavier mindset, not least on the storming 'Heart Of A Warrior', but then 'heavy' by the Call's standards is still ridiculously upbeat…Of particular note is the fact that Freedom Call have attempted to move out of their comfort zone with a title track stretching close to eight minutes in length, there's just enough stylistic variation to the arrangement to keep it interesting – even if it's not quite as immediately captivating as the rest of the album. On the other hand, 'Dance Of The Devil' shows the band channeling a slightly culturally-infused rhythm, with the result being a track that sounds like a heavy metal version of The Lion King. It's a real highlight, and both songs add a slightly different element to an album of solid and unabashedly upbeat power metal."
"You sound like a bunch of pussies", bemoans Freedom Call front-man Chris Bray. "You're supposed to be warriors! This is a heavy metal party." Were you ever tempted to try out a quintessential power metal show for size, well… too damned late. A boisterous Friday night sold-out crowd has gathered to appreciate two of the genre's very finest exponents. Focusing on their 2002 album, the Germans go down like a headline act. 8/10"
(Dave Ling, live review of Freedom Call /Sonata Arctica @ Islington 02 Academy in Metal Hammer, July 2015 issue)
POWERWOLF have been acknowledged with a METAL HAMMER AWARD!
As winners in the category "Best German Band", the wolves have been awarded at legendary Metal Hammer Awards Party in Berlin last Friday. "It was a great moment to win this award - we really feel honoured. Not to mention the great party time we had that night at Metal Hammer Awards Party! Thank you all - and see you on the upcoming shows of the Wolfsnächte tour!" comments Attila Dorn.
BOB CATLEY OF MAGNUM JOINS AVANTASIA AGAIN!
After Geoff Tate, Michael Kiske & Jorn Lande, another guest vocalist is confirmed to appear on the forthcoming AVANTASIA album "GHOSTLIGHTS" (January 29th, 2016): Mr. BOB CATLEY.
Mainly known as the voice on masterpieces such as "On A Storyteller's Night" or "Wings Of Heaven" by British Epic Rock legend MAGNUM, BOB CATLEY has also made himself a name amongst AVANTASIA fans, having appeared on signature tracks such as "In Quest For", "The Story Ain't Over" or "The Great Mystery". Besides Jorn Lande, Michael Kiske and many more, Bob will also join AVANTASIA on the European tour that is going to kick off in March. AVANTASIA have already stated that they'll play over three hours every night and the setlist will contain both, some new material but also a lot of older classic stuff from all eras of the band's history. Tour dates and tickets at avantasia.net (also for the Hamburg show there are still some tickets available at the band's website).
What is your favourite Bob Catley track that you would want to hear on the tour?
GHOSTLIGHTS TOUR 2016
04.03. BERLIN
05.03. HAMBURG
06.03. BREMEN
08.03. LONDON
09.03. PARIS
11.03. BARCELONA
12.03. MADRID
15.03. FRANKFURT
16.03. PRAGUE
18.03. KAUFBEUREN
19.03. BAMBERG
20.03. OBERHAUSEN
22.03. MILAN
24.03. BASEL - PRATTELN
25.03. BASEL - PRATTELN
27.03. BANSKA BYSTRICA
28.03. BRATISLAVA
29.03. TRÖPOLACH*
31.03. SAARBRUECKEN
01.04. LUDWIGSBURG
02.04. FULDA
* Full Metal Mountain Festival appearance, no 3hrs show!

More dates in other territories to be announced soon!

Check ticket availablity for shows at avantasia.net
Bill Hudson Joins Trans-Siberian Orchestra
This is the most important post I'll ever make, so read on.
When I moved to the US, I had ONE objective in mind. You know when you're a kid and people ask what you want to do when you grow up? THIS is what I wanted to do when I grew up...and it has finally come true. I really need some new objectives in life:
I will be joining the Trans-Siberian Orchestra in its East band incarnation for their upcoming winter tour! I'm trying to come up with words to fill this post, but I really can't... I'm too stoked!
I'll be at the following cities, and hope to see everyone!
Nov 18 - Erie, PA - Erie Insurance Arena - 4:00 PM & 8:00 PM
Nov 19 - Charleston, WV - Charleston Civic Center - 7:30 PM
Nov 20 - Columbia, SC - Colonial Life Arena - 8:00 PM
Nov 21 - Greensboro, NC - Greensboro Coliseum - 3:00 PM & 8:00 PM
Nov 22 - Greenville, SC - Bon Secours Wellness Arena - 3:00 PM & 7:30 PM
Nov 25 - Reading, PA - Santander Arena - 4:00 PM & 8:00 PM
Nov 27 - Uncasville, CT - Mohegan Sun Arena - 4:00 PM & 8:00 PM
Nov 28 - Manchester, NH - Verizon Wireless Arena - 3:00 PM & 8:00 PM
Nov 29 - Hartford, CT - XL Center - 3:00 PM & 7:30 PM
Dec 2 - Louisville, KY - KFC Yum! Center - 7:30 PM
Dec 3 - Ft Wayne, IN - Allen County War Memorial Coliseum - 7:30 PM
Dec 4 - Cincinnati, OH - US Bank Arena - 4:00 PM & 8:00 PM
Dec 5 - Dayton, OH - Nutter Center - 3:00 PM & 8:00 PM
Dec 6 - Grand Rapids, MI - Van Andel Arena - 3:00 PM & 7:30 PM
Dec 9 - Richmond, VA - Richmond Coliseum - 7:30 PM
Dec 10 - Washington , DC - Verizon Center - 7:30 PM
Dec 11 - Wilkes-Barre, PA - Mohegan Sun Arena - 4:00 PM & 8:00 PM
Dec 12 - Newark, NJ - Prudential Center - 3:00 PM & 8:00 PM
Dec 13 - Albany, NY - Times Union Center - 3:00 PM & 7:30 PM
Dec 16 - Providence, RI - Dunkin' Donuts Center - 7:30 PM
Dec 17 - Boston, MA - TD Garden - 7:30 PM
Dec 18 - Hershey, PA - Giant Center - 4:00 PM & 8:00 PM
Dec 19 - Philadelphia, PA - Wells Fargo Center - 3:00 PM & 8:00 PM
Dec 20 - Buffalo, NY - First Niagara Center - 3:00 PM & 7:30 PM
Dec 22 - Ottawa, ON - Canadian Tire Center - 4:00 PM & 8:00 PM
Dec 23 - Toronto, ON - Air Canada Centre - 4:00 PM & 8:00 PM
Dec 26 - Columbus, OH - Jerome Schottenstein Center - 3:00 PM & 8:00 PM
Dec 27 - Pittsburgh, PA - Consol Energy Center - 3:00 PM & 7:30 PM
Dec 29 - Detroit, MI - The Palace of Auburn Hills - 4:00 PM & 8:00 PM
Dec 30 - Cleveland, OH - Quicken Loans Arena - 4:00 PM & 8:00 PM
RATT 'INVASION OF YOUR PRIVACY' CANDY281
THERE'S NO DOUBT that the mid eighties were pretty much ruled by an exciting clique of Los Angeles based hard rock bands. Everyone from Mötley Crüe, Great White, Dokken and Quiet Riot were breaking records in one way or another, but it was five piece RATT who really condensed all that was truly exciting about the scene when their debut album 'Out Of The Cellar' exploded at MTV, radio and retail, giving then a double platinum album and a reputation second to none.
The impressive 'Invasion Of Your Privacy', produced by Beau Hill, who masterminded the previous record, found the band further exploiting their penchant for snappy melodies and super catchy hooks. 'Tracks such as 'You're In Love','Lay It Down' and 'What You Give Is What You Get' became instant RATT classics bouncing out of the grooves and right into the public's heart. It was this album that truly elevated RATT to arena headline status in the US whilst helping to spread the message further afield in Europe and Japan.
A solid gold classic. Special Deluxe Collector's Edition, fully remastered Audio,16 page full colour booklet, 3,500 word essay, enhanced artwork, rare photos and new interviews
TRACK LISTING: 1. YOU'RE IN LOVE 2. NEVER USE LOVE 3. LAY IT DOWN 4. GIVE IT ALL 5. CLOSER TO MY HEART 6. BETWEEN THE EYES 7. WHAT YOU GIVE IS WHAT YOU GET 8. GOT ME ON THE LINE 9. YOU SHOULD KNOW BY NOW 10. DANGEROUS BUT WORTH THE RISK
Purchase here: http://www.rockcandyrecords.com/
Bolt Thrower - When Cannons Fade...
Martin 'Kiddie' Kearns - 07.03.77 - 14.09.15
With the heaviest of hearts, and still numb from shock, we have to share the very sad news that on Monday 14th September Bolt Thrower lost our powerhouse drummer, Martin 'Kiddie' Kearns.
After the first rehearsal for our upcoming tour of Australia, Kiddie suddenly felt unwell which continued throughout the night, and the next day he passed away peacefully in his sleep.
He was a fantastic Dad, husband, son, friend, but to us he was always 'Kiddie', the same 17 year old Coventry kid whose drumming style and personality blew us away when he first walked into our rehearsal room 20+ years ago.
Kiddie enriched our lives, and the Bolt Thrower sound. He leaves a massive hole in the lives of everyone who knew him and will be very sorely missed by many.
Karl, Jo, Baz, Gav & the loyal BT crew
Hollywood Vampires set to release benefit album
Hollywood Vampires are Alice Cooper, Johnny Depp, Joe Perry. Featuring Perry Farrell, Dave Grohl, Sir Paul McCartney, Joe Walsh, Slash, Robbie Krieger, Zak Starkey, Brian Johnson and Kip Winger.
In 1972, on the Sunset Strip at a club called the Rainbow Bar & Grill, the Hollywood Vampires were born in the upstairs bar. It was a gathering place for the rock stars living in or passing through L.A. "To join the club, one simply had to out drink all of the members," says Alice Cooper, a founding member of the Vampires. "I would walk in on a typical night" Alice says, "and John Lennon, Harry Nilsson, Keith Moon who would usually be in aa costume like a maid or a chauffeur Bernie Taupin, Jim Morrison and Mickey Dolenz would be there. The next week might be Bernie Taupin, Jimi Hendrix, Jim Morrison and Mickey Dolenz."
Three years ago, Alice and good friend Johnny Depp got together and decided the spirit of the Hollywood Vampires should live again (minus the drinking). An environment for great artists to hang, laugh and play together. The Hollywood Vampires live again with the release of the Hollywood Vampires new album. Alice and Johnny were joined by Joe Perry, who is an old friend of both of them, and the recording began: a tribute to the original Hollywood Vampires.
For the next two years, Alice, Joe and Johnny, joined by producer Bob Ezrin and an amazing group of modern day vampires, including Perry Farrell, Dave Grohl, Sir Paul McCartney, Joe Walsh, Slash, Robbie Krieger, Zak Starkey, Brian Johnson and Kip Winger, recorded tracks by their dead friends and heroes. Also included are two original songs that tell the story of the Vampires, one of which, "Raise The Dead," has an intro by Sir Christopher Lee, recorded just prior to his death.
The album package, an antique book, was created by noted men's fashion designer (and rock fan) John Varvatos in his signature vintage style. Alice and Varvatos, both Detroit natives, have been partners in fashion for several years with Alice lending his classic rock style as a brand ambassador.
A sneak peek at the liner notes, penned by original Hollywood Vampire Bernie Taupin, "I'm not here to defend their vices. Over-indulgence of any sort does not ultimately constitute for a healthy mind and body. And while on the periphery of those involved, wives may have come and gone, career choices may have been deemed dubious, and heartbreak in some cases stalked a dark corridor, but in the lair of the Hollywood Vampires only joy and laughter reigned."
"I'm not completely sure what constituted bad behavior back then, but in this lair it existed in a bubble, a hermetically sealed dome of fun. It may not have been the round table at the Algonquin, but these were witty, intelligent guys who often got raucous and loud, but rest assured there were no bystanders or animals hurt in the making of the Hollywood Vampires."
All artist proceeds will be donated to MusiCares.
Five to One/Break On Through
School's Out / Another Brick In The Wall pt.2
Champlin, Williams & Friestedt to release CWF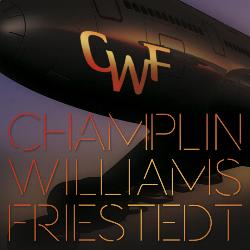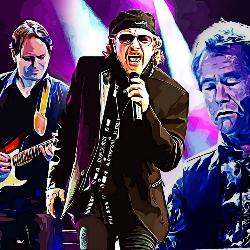 TOTO singer Joseph Williams teams up with former Chicago singer Bill Champlin and Swedish guitarist/producer Peter Friestedt for a new remarkable AOR release following the success with the "Live In Concert" DVD that made it all the way to the top on the Swedish Chart!
In 2012 Champlin/Willams/Friestedt played a sold out Scandinavian tour and during this time the first recordings of the "CWF" album took place. The new album also includes contributions from Steve Porcaro of TOTO, Randy Goodrum (TOTO, Chicago), Will Champlin and Tamara Champlin.
Champlin says: "I've been involved with a project that includes me, Peter Friestedt a great guitarist and producer from Sweden, and Joseph Williams, the singer of TOTO! I was pretty knocked out by the stuff. I'd almost forgotten how good it was when we did it. There are great songs and even better performances on this album, and I know you'll love it It's rare for me to be involved with a project and be surprised by how good it is. This one will knock you out."
Joseph Williams is the lead vocalist with Grammy winning US band TOTO. He has been busy as a composer of film and drama scores, as a session vocalist, backing singer and can be heard in Disney's animated feature film "The Lion King" as singing voice of the adult Simba ("Hakuna Matata" and "Can You Feel The Love Tonight").
Guitarist, producer & recording artist Peter Friestedt has released two critically acclaimed albums "LA Project" (2002) and "LA Project II" (2008) that got top reviews. Peter has been a busy session player playing on records with David Foster and Fergie Frederiksen and touring Europe and Japan with Joseph Williams with who he also released the "Williams/Friestedt" album that was a top 40 hit in Scandinavia!
Bill Champlin was the lead singer of the legendary band Chicago for more than 25 years, and is a founding member of the band Sons of Champlin. Champlin has written Grammy award winning songs for Earth Wind & Fire and George Benson, and worked with countless artists including Elton John, The Doobie Brothers and Steve Lukather of TOTO.
Tracklist: Runaway, Aria, Still Around, All that I want, Carry On, Nightfly, Hearts At War, After the Love Has Gone, RIvers Of Fear, Evermore
Sound clips in advance:
Champlin Williams Friestedt - CWF - Aria (Edit)
Champlin Williams Friestedt - CWF - Hearts At War (Edit)
The "CARSTEN LIZARD SCHULZ SYNDICATE" signs with POWER PROG
POWER PROG is proud to announce the signing of one of Germany's premier voices of rock, Carsten 'Lizard' Schulz. Now the common goal is the release of his first solo album "The Day The Earth Stopped Turning" under the flag of "Carsten Lizard Schulz Syndicate" at November 20, 2015 as Double CD, download card, digital download and stream, which was created with the participation of some really big names out of the current rock and metal scene.
Carsten 'Lizard' Schulz is certainly no stranger to the international Rock & Metal scene and he can look back on a more than 20 years lasting and successful career. As lead singer and formative element of well known acts like DOMAIN, EVIDENCE ONE, CODE OF PERFECTION and MIDNITE CLUB in the first decade of the 2000s, he has influenced the German hard rock scene like only a few other artists. His lead singing skills can be also enjoyed on more recent albums by DEAD END HEROES, LAVALLE, RIK PRIEM'S PRIME, FROZEN RAIN and many others and as a guest singer he can be heard on countless other releases. But Carsten is also a highly sought-after songwriter. You can listen the works out of his pen on albums by RUSSELL ALLEN / MAT SINNER, VENGEANCE, GARY JOHN BARDEN etc. ... A real musical workaholic since years!
A real labor of love is the realization of his first solo album "The Day The Earth Stopped Turning". A process that took many years to complete - on the one hand for reasons of time, to the other hand to present the best possible and identifiable result. As a die-hard fan of the good old 70s, Carsten's clear intention was to create an adult and classical hard rock album with the special old-school flair. Under the decisive participation of his congenial partner Steffen Seeger and with the help and support by dozens of well-known artists from the last four decades (such as Axel Rudi Pell, Mat Sinner, Neil Murray, Erik Norlander and lots of others), a classic rock album has emerged that seeks of his peers in the current world of music and which is much more than a tribute to the good old days. A man, his friends and their mission give us an over 80 minutes lasting listening pleasure which brings us back to the past and to greats like LED ZEPPELIN, DEEP PURPLE, RAINBOW, WHITESNAKE, URIAH HEEP, NAZARETH, KANSAS, MANFRED MANN ... But hey, definitely no reheated brew, this is how straight sophisticated classic hard rock should sound today!
"The Day The Earth Stopped Turning" tracklist ...
CD1
01. The Prize Is Shame
02. Head's Blowing A Fuse
03. Black Water Soul
04. Dogs
05. Perfect To Me
06. Into The Blue
07. Soulburn
08. Man In Flames
CD2
09. Last Train To Babylon
10. Lucky Star
11. Song Like Rain
12. Close Your Eyes And Count To Ten
13. Brand New Fire
14. Nothing Left To Give
15. Postcards From Hell
16. The Teacher
• Produced & engineered by Steffen Seeger & CLS
• Mixed & mastered by Rolf Munkes (www.empire-studios.de)
• Main recordings at Seegewerk Studios, Mannheim/Germany
• Artwork design by Stan W. Decker (www.stanwdartworks.com)
• Artwork concept by CLS
• Logo design & CD layout by Götz Morgenschweis
• CLS pix by Ralf Mack (www.ralf-mack.com)
Pre-order the album as Double CD and as high quality digital download in MP3, lossless FLAC, ALAC and more in POWER PROG's Digital Audio Store already now: http://www.powerprog.digital

CARSTEN LIZARD SCHULZ SYNDICATE is ...
Lead and backing vocals:
Carsten 'Lizard' Schulz
Drums:
Ramy Ali (Freedom Call / Iron Mask)
Markus Kullmann (Fox / Hartmann /Glenn Hughes / ex-Voodoo Circle)
Bass:
Thomas "Hutch" Bauer (Mad Max / ex-Evidence One / Frontline)
Alex Jansen (Fox)
Henning Saleschke (The Brights)
Ilker Ersin (Freedom Call / Powerworld)
Michael "Muelli" Mueller (Jadded Heart)
Mat Sinner (Primal Fear / Voodoo Circle / Sinner)
Neil Murray (ex-Whitesnake / -Black Sabbath / -Garry Moore etc.)
Paul Logue (Eden's Curse / Dead End Heroes)
Volker Krawczak (Axel Rudi Pell)
Keyboards:
Holger Seeger (Dead End Heroes)
Alessandro Del Vecchio (Voodoo Circle / Glenn Hughes / Hardline etc.)
Erik Norlander (Solo artist / Lana Lane / Rocket Scientists)
Guitars:
Joerg Wartmann (ex-Evidence One / Unheilig)
Oliver Hartmann (Hartmann / Avantasia)
Axel Rudi Pell (Solo artist)
Stefan Kahne (The Brights)
Guido Stoecker (Bodyguerra)
Matti Filippini (Moonstone Project / Glenn Hughes / Ian Paice)
Kelly Simonz (Solo artist)
Rolf Munkes (Empire / Tony Martin / Dead End Heroes)
Tommy Vitaly (Solo artist)
Steffen Seeger (Midnite Club)
Oliver "O.G." Guettinger (ex-Czakan / -Backbone Slide)
Cede Dupont (Silent Circus / Downspirit / ex-Freedom Call / ex-Symphorce)
Helge Engelke (Fair Warning)
Chris Lyne (Mother Road / ex-Soul Doctor)
Ferdy Doernberg (Axel Rudi Pell / ex-Uli Jon Roth)
Thorsten Koehne (Eden's Curse / ex-Hardline)
Pete Ahonen (Burning Point / Stargazery / Ghost Machine)
Additional backing vocals:
Pete Newdeck (Tainted Nation / ex-Eden's Curse / ex-Grim Reaper)
.
Website: http://www.carstenschulz.com
Facebook: https://www.facebook.com/CarstenLizardSchulz
Radio Exile to release self titled debut on AOR Heaven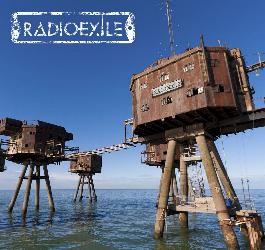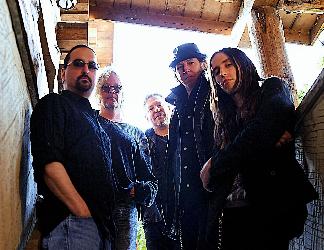 In the post era of the FM dominated airwaves comes a new generation of classic rock, RADIO EXILE.
On rare occasions, some magical-artistic vibe goes out calling up a unique set of musicians to create groundbreaking music. When truly great musicians come together, the resulting brotherhood/sisterhood embraces their diversity, enabling them to collaborate so as to push through otherwise insurmountable boundaries. Collaboratively, they each pour the very best of what makes them cutting edge individually, into one dynamic presentation. For the rest of us, we are compelled to listen over and over.
When Charlie Calv decided to send out the vibe, he probably didn't anticipate collective perfection, but that is what he got. When Charlie and Chandler Mogel wrote the music and lyrics for these songs, they could not have anticipated the individual masterpiece each would become. But that is what they got. Take two brilliant writers and musicians, collaborating with some of the best individual players in the world and you understand why this music is so strong. RADIO EXILE is one of the very best hard rock projects to come along in many years.
Individually, the musicians that come together to form RE, perform on stage or in the studio with the greatest artists of our time. This list includes Paul McCartney, Bob Dylan, Hall and Oates, Allison Krauss, Billy Idol, John Waite, members of Pink Floyd, Styx, Journey, Van Halen, the Rolling Stones, and Black Sabbath. This talent pool has been tapped, used, and appreciated over the years. Now, together as one, five brilliantly successful, creative worlds collide in a panoramic musical explosion.
The lineup is notable with Charlie on keyboards and Chandler on lead vocals. Jimmy Leahey contributes his soulful guitar playing, and all are constructed on the rhythm foundations crafted by bassist Kenny Aaronson and percussion specialist Dave Anthony.
Their impressive resumes list their many accomplishments, but only hint at what RE truly represents. What makes this project so epic is that these five distinguished artists draw us in to experience their passion and love for music right along with them. From the hard-hitting, bombastic percussion of "High Road, High Price," to the gospel infused "A Cross on Stone" - featuring the voices of Jessie Wagner (Kid Rock and Lenny Kravitz), Joe Cerisano (TSO and Silver Condor) and Amy Harnell (Tony Harnell and The Mercury Train) - these tracks are sure to stand the test of time.
Enlisting Grammy-nominated engineer/producer Steve DeAcutis (Vanilla Fudge, Cyndi Lauper, Corey Glover, etc…) and veteran producer/A&R man Steve Lunt (Britney Spears, 'NSync , Joan Jett ,etc…), the latter who first honed his skills alongside the legendary Mutt Lange as vocalist of the chart topping British band City Boy, the guys checked into the SPA (Sound Spa Recording) and an immediate synergy took hold. The finishing touches were then added by top mastering engineer Alan Douches (Fleetwood Mac, Yes, Train, Pete Townsend, etc….) at his West West Side Music facility.
Reuniting some old friends, and making some new, RADIO EXILE is a fantastic blend of hard rock that will not disappoint the existing fans of any of these musicians. In fact, RADIO EXILE is sure to gain a new generation of fans who will be hungry for more. When the sure hand of destiny channels the melodic heart, we celebrate the creation. RADIO EXILE is exactly that and more. Just listen….
www.radioexile.net www.facebook.com/radioexileband
Tracklist: 1. High Road, High Price, 2. Soulfire, 3. No Pity On The Highway, 4. Feels Like Home, 5. Higher Than The Sun, 6. Hang On, 7. Starting Over, 8. Down In A Hole, 9. A Cross On Stone, 10. Road To Exile
Soundfiles in advance:
RADIO EXILE - High Road High Price (Edit)
BETWEEN THE BURIED AND ME European headlining tour approaching soon!


New viyl editions of "Coma Ecliptic" and "The Parallax 2" available!

Only a few more days until BTBAM head over to Europe for their first headlining tour in support of their latest album "Coma Ecliptic"!

Comments bassist Dan Briggs: "We're excited to be coming back to Europe with a new album that means so much to us, and to play some areas we haven't been in 3 years will be incredible! For us though, the tour is really about finally getting an opportunity to share the stage with HAKEN who we consider at absolute the top of modern progressive rock. It's an honor to be able to share a bill with them. See you all soon!"

BETWEEN THE BURIED ANE ME
+ Haken
16/09/15 UK - Southampton - Talking Heads
17/09/15 UK - London - Electric Ballroom
18/09/15 UK - Manchester - Gorilla
19/09/15 UK - Glasgow - The Garage
20/09/15 UK - Leeds - The Key Club
22/09/15 UK - Nottingham - Rescue Rooms
23/09/15 UK - Brighton - The Haunt
25/09/15 FR - Paris - La Maroquinerie
26/09/15 BE - Brussels - Magasin 4
27/09/15 NL - Amsterdam - Melkweg
28/09/15 DE - Hamburg - Logo
29/09/15 DE - Berlin - Magnet
30/09/15 DE - München - Backstage Club
01/10/15 DE - Köln - Euroblast Festival
03/10/15 DK - Copenhagen - Vega Small Hall *
04/10/15 SE - Gothenburg - Sticky Fingers *
05/10/15 NO - Oslo - John Dee *
06/10/15 SE - Stockholm - Klubben/Fryshuset *
08/10/15 FI - Helsinki - Tavastia *
*BTBAM only!

From the 16th of September on you can also purchase the "Coma Ecliptic tour edition", a silver coloured double-gatefold-LP that comes with an exclusive BTBAM tote bag. The tour edition is limited to 500 copies and can be purchased on tour (while stock lasts) and HERE!

Two new vinyl editions of "The Parallax 2: Future Sequence" are available since last Friday, 300 copies clear marbeled and 200 luminous, both available HERE!

"Coma Ecliptic" entered the Billboard Topp 200 on position 12 and in addition, the album charted on the iTunes Rock chart (#2), Canada Hard Music Chart (#3), UK Rock/Metal chart (#4), UK Independent Chart (#10), Canada Top 200 Chart (#17), Canada Top 200 Digital (#22), Germany Top 100 (#53) and UK Album chart (#74).

The music video for "The Coma Machine" is streaming at metalblade.com/btbam!

"BTBAM, while being technically brilliant, rather speak tot he heart than the brain and have delivered the most fabulous Prog Metal tunes in 2015 so far!" (Michael Rensen, Rock Hard magazine, 9 / 10 points, album soundcheck winner)

"A Prog Metal album as it should be: captivating, challenging and extraordinary. In short: richly detailed inner cinema par excellence!" (Mike Borrink, Eclipsed magazine, 8.5 / 10 points)

"An incredible, exciting sonic landscape!" (Nils Wittrock, Fuze magazine)

"A compelling album throughout, compelling and constantly engrossing album!" (Arne Kupetz,Legacy magazine, 14 / 15 Punkten)

BETWEEN THE BURIED AND ME is composed of vocalist/keyboardist Tommy Rogers, guitarist Paul Waggoner, guitarist Dustie Waring, bassist Dan Briggs and drummer Blake Richardson.

https://www.facebook.com/BTBAMofficial https://twitter.com/btbamofficial
https://instagram.com/btbamofficial https://www.youtube.com/user/BTBAMofficial
FIVE MORE BANDS ANNOUNCED FOR SOS FESTIVAL 2016
SOS Festival has announced five more bands for their next event which takes place in Radcliffe, North Manchester on 15-17th July 2016....

These bands join BABYLON FIRE, THE IDOL DEAD, LORD VOLTURE & AONIA who were the first announced during this years' SOS Festival.

SOS is an annual 3-day, 2-stage, indoor rock and metal festival and 2016 will be the 9th such event. Previous headliners include BLAZE BAYLEY, GUN, BLACK SPIDERS, HEAVEN'S BASEMENT, I AM I, ABSOLVA, FURY UK, FURYON, TRIAXIS.

Reviews from the 2015 festival have been resounding....

Powerplay.. 'this isn't just any festival, this is SOS, one of the friendliest, laidbackest, most enjoyable festivals you're likely to encounter'

Get Ready To Rock.. 'organized by Rocksector Records it showcases not only their bands but some of the finest bands from the UK and beyond'

Get Your Rock Out.. 'definitely a great, value for money, well run festival'

Planet Mosh.. 'a great show with music for everyone at a ridiculously low price'

RIVAL SONS Announced As Support for BLACK SABBATH's Final World Tour
Long Beach, California's RIVAL SONS have been announced as main support to BLACK SABBATH for what will be the heavy metal icons' final world tour.
Due to kick off on January 20th in Omaha, Nebraska, the scheduled dates will take the band all across the USA and Canada, with more dates due to be announced soon.
RIVAL SONS frontman Jay Buchanan comments:
"To have this opportunity is at first unfathomable and then flattering to know we'll be in company with these bonfire legends each night. Thank you Black Sabbath."
RIVAL SONS guitarist Scott Holiday adds:
"We couldn't be more honored and excited to announce we'll be supporting the legendary Black Sabbath on their upcoming world tour! This will take us to places we haven't been and back to those places where we've made so many friends and fans. Here we go folks... Black Sabbath and Rival Sons coming to your town/city/country soon!"
Don't miss RIVAL SONS on tour with BLACK SABBATH:
NORTH AMERICA
Jan. 20 - Omaha, NE - Century Link Center
Jan. 22 - Chicago, IL - United Center
Jan. 25 - Minneapolis, MN - Target Center
Jan. 28 - Saskatoon, SK - Sasktel Centre
Jan. 30 - Edmonton, AB - Rexall Centre
Feb. 01 - Calgary, AB - Scotiabank Saddledome
Feb. 03 - Vancouver, BC - Rogers Arena
Feb. 06 - Tacoma, WA - Tacoma Dome
Feb. 09 - San Jose, CA - SAP Center
Feb. 11 - Los Angeles, CA - The Forum
Feb. 13 - Las Vegas, NV - Mandalay Bay Events Center
Feb. 15 - Denver, CO - Pepsi Center
Feb. 17 - Kansas City, MO - Sprint Center
Feb. 18 - Detroit, MI - The Palace of Auburn Hills
Feb. 21 - Hamilton, ON - FirstOntario Centre
Feb. 23 - Montreal, QC - Bell Centre
Feb. 25 - New York, NY - Madison Square Garden
RIVAL SONS recently announced a 2-Disc Tour Edition of their critically-acclaimed 2014 album, 'Great Western Valkyrie', to celebrate the band's upcoming European tour with DEEP PURPLE. After storming into charts around the world upon its release and being rated the number one album of 2014 by Classic Rock magazine, the album will be released on limited edition CD, including a bonus disc which features six unmissable bonus tracks.
Pre-order the 'Great Western Valkyrie' 2-Disc Tour Edition now on double CD from the Earache Webstore at http://www.earache.com/rs14
The album is also available to pre-order now on iTunes at http://bit.ly/gwv-tour-edition-itunes
Watch RIVAL SONS' music video for the song "Electric Man" at http://bit.ly/1JX3qIY
View a photo of the band at http://bit.ly/1K1MZND
Get more RIVAL SONS news and info:
Official site - http://www.rivalsons.com
Tour dates - http://www.rivalsons.com/tour
Facebook - http://www.facebook.com/rivalsons
Twitter - http://twitter.com/rivalsons
Shiraz Lane sign with Frontiers Records Srl
Frontiers Records Srl is excited to announce the signing of one of the hottest newcomers in the current hard rock scene: SHIRAZ LANE from Finland!
Can you imagine The Darkness, Skid Row, Guns N' Roses, Warrant, Hardcore Superstar and some youthful 21st energy combined together into one AWESOME mix? Well, there you have SHIRAZ LANE ' one of the most talented new bands to emerge from Finland in recent years!
Not convinced yet? Then hear and see for yourself with the videos taken from the band's debut EP, "Be The Slave Or Be The Change":
"Money Talks" - www.youtube.com/watch?v=0vyWfWnM8oI
"Out There Somewhere" - https://youtu.be/f98UDvrbu5E
"Mental Slavery" - www.youtube.com/watch?v=xXRCdMG0V_4
"Story to Tell" - https://youtu.be/OI088hUBxL8
Even though the current lineup has only been together for a bit more than a year, SHIRAZ LANE has already won several big competitions and what is the most important thing fans hearts. The guys are in their early 20's, but are already live machines, hard workers, and ready to play live wherever and whenever possible. They've already been spreading their rock hurricane around their homeland of Finland as well as Canada, Tokyo and this year in Germany at Wacken Open Air too. Shiraz Lane will be touring all across their homeland this fall and are getting prepared to record their debut studio full-length album later this year with a plan to release it in the Spring of 2016.
The band says: "We are thrilled to join the ranks of a record company which is authentic, committed and has absolute faith in our band. In addition, we are truly humbled and honored to be set side by side with numerous of our idols ' including Whitesnake/David Coverdale, Toto, Journey, and Sebastian Bach! No doubt this is a start of a fruitful, reliable and most importantly Hard Rocking musical symbiosis!"
Set your stereos to 11 and be prepared to have their music get you to a place where good Rock is still alive & kicking!
SHIRAZ LANE is: Hannes Kett - vocals / Jani Laine - solo guitar / Miki Kalske - rhythm guitar / Joel Alex - bass / Ana Willman - drums
Weblinks: facebook.com/ShirazLane / twitter.com/shirazlane / instagram.com/shirazlane
NEW YES BASS PLAYER BILLY SHERWOOD TO RELEASE A CONCEPT ALBUM "CITIZEN" FEATURING THE CREAM OF THE PROG ROCK SCENEOUT ON FRONTIERS IN NOVEMBER
On November 6, 2015, Frontiers Music Srl will release Billy Sherwood's latest, a concept album called CITIZEN.
Billy Sherwood created this concept album based on a lost soul that is reincarnated into various periods of history. "I was inspired by the notion that General Patton believed he was reincarnated on various battlefields through time; I wanted to take that concept even further." As the songwriter/producer, Billy placed the citizen character into significant moments of history.
The lead off track is called "The Citizen" which sets the stage for what's to come on the recording. "The Citizen" features Billy's longtime friends and members of the legendary Progressive Rock band Yes: bassist Chris Squire and former Yes keyboardist Tony Kaye.
Each song places the Citizen into a unique set of circumstances where decisions are made that have serious personal and global consequences. In the song "No Man's Land" (featuring Deep Purple/Dixie Dregs/Kansas guitarist Steve Morse) the Citizen appears as a World War I trench runner who passes the message along to the troops that it's time to attack; the Citizen remains behind and is, ultimately, the only survivor. "Empire" (with lead vocals by Alan Parsons & violin from Jerry Goodman of the Flock, Dixie Dregs, Mahavishnu Orchestra) finds the Citizen as a conscript legionnaire in the final days of the Roman Empire. "Just Galileo and Me" (sung by Colin Moulding singer/bassist of XTC) shows the Citizen as a protective friend to Galileo, trying to tell the astronomer that he should not tell people that the earth is not flat or he will be labeled as a heretic.
Known as a multi-instrumentalist, Billy performs drums, bass, guitar, keys and sings several of the songs, including "A Theory of its Own" in which the Citizen appears as companion to Charles Darwin on the evolutionist's maiden voyage. He sings of Native Americans affected by the Indian Removal Act of 1830 in the song, "Trail of Tears," which features Patrick Moraz on keyboards. Former Genesis guitar player Steve Hackett adds his chops to "Man And The Machine," which is about an assembly line worker and activist in the late 1890s. "Age Of The Atom" is about the creation of the Atomic Bomb and the questions of morality as a result of it; this features Geoff Downes on keyboards. Dream Theater keyboardist Jordan Rudess appears on "Escape Velocity," a song that speaks to the political implications of the space race in the 1960s.
In "The Great Depression," Billy's songwriter's pen draws pain from the heart of a distraught Wall Street investor, who has lost everything in the stock market, and steps out to make a final step off the ledge. Rick Wakeman plays grand piano and other keyboards on this one. Finally, in CITIZEN's 11th song, "Written In The Centuries," performed by current Yes singer Jon Davison, Nostradamus is the Citizen busily composing his many predictions.
Billy Sherwood was recently handpicked by Chris Squire to fill in for him on bass and vocals in Yes, before he left for cancer treatment and ultimately, his untimely death. Billy started his career in the band Lodgic and then as a member of World Trade, who have two critically-acclaimed albums. He has produced and engineered for many artists including John Wetton, Motorhead, Queensryche, Paul Rodgers, and Yes.
He joined Yes first as touring member on the "Talk" tour in 1994, and was a full time member from 1997 to 1999. He recorded two albums with Chris Squire as the "Conspiracy" project and released six albums with Circa, the band he formed with Tony Kaye.
CITIZEN is Billy's eighth album of new material, though he sees this as a group effort, "While I've created a lot of this record myself I couldn't have done it without the amazing talents brought to bear by all the great artists who participated. So I feel it's much more of a collective effort than a solo album. It's my desire to take this production onto the stage and some of these amazing artists can help bring this concept to life."
CITIZEN tracklisting: The Citizen; Man And The Machine; Just Galileo And Me; No Man's Land; The Great Depression; Empire; Age Of The Atom; Trail Of Tears; Escape Velocity; A Theory All It's Own; Written In The Centuries
FIRST VOCALIST FOR NEW AVANTASIA ALBUM + TOUR ANNOUNCED!
In January AVANTASIA will release their new album "GHOSTLIGHTS", followed by the GHOSTLIGHTS WORLD TOUR 2016 that will kick off in March. Now the first guest vocalist can be announced.
Tobias: "Hey Newsletter subscriber, Avantasian and friend of great music! ;) You may have heard about it, but I wanna inform you personally: GHOSTLIGHTS will feature some of the greatest vocalists of all time, and now I can reveal the first name. To most Avantasia fans he is an old acquaintance: The Striking Viking, Mr. Jorn Lande. We have just finished the studio session with Jorn, and he sounds amazing. The whole material sounds really enchanting, very melodic, very powerful, very emotional. And the best news is: Jorn is also going to join us for the GHOSTLIGHTS WORLD TOUR. We'll play 3 hours every night, there'll be various amazing vocalists sharing the stage, and Jorn will be one of them.
I can't wait to unleash the album and hit the road, and our stage manager is discussing the stage production with several companies right now. We have plans! :) Of course, the focus has to be on the albums, the songs, and the singers - no doubt! We'll keep you posted. Ah, and before I forget: You know I have my own radio show, don't you? Tobias Sammet Rockshow at RadioBob. You can listen online - www.radiobob.de - as well. I'm on the air every Wednesday, from 9PM CET to midnight. Three hours of Classic Rock & Metal. Next Wednesday I think I may announce another guest vocalist on my show. So… ok, now back to the studio. We'll speak, have a great day, and talk to you soon, Tobi"
AVANTASIA - GHOSTLIGHTS WORLD TOUR 2016
04.03. Germany - Berlin, Huxley´s*
05.03. Germany - Hamburg, Große Freiheit*
06.03. Germany - Bremen, Aladin*
08.03. England - London, The Forum*
09.03. France - Paris, Le Trianon*
11.03. Spain - Barcelona, Razzmatazz 1*
12.03. Spain - Madrid, La Riviera*
15.03. Germany - Frankfurt-Langen, Stadthalle*
16.03. Czech Republic - Prague, Forum Karlin*
18.03. Germany - Kaufbeuren, All-Karthalle*
19.03. Germany - Bamberg, brose-Arena*
20.03. Germany - Oberhausen, Turbinenhalle*
22.03. Italy - Milan, Alcatraz*
24.03. Switzerland - Pratteln, z7*
25.03. Switzerland - Pratteln, z7*
27.03. Slovakia - Banska Bystrica, Ice Stadium*
28.03. Slovakia - Bratislava, Sportshall*
29.03. Austria - Tröpolach, Full Metal Mountain Festival
31.03. Germany - Saarbrücken, Saarlandhalle*
01.04. Germany - Ludwigsburg, Arena*
02.04. Germany - Fulda, Esperantohalle*
*No further bands, Avantasia play 3 hours
More dates in other territories to be announced soon!
Check ticket availablity for shows at www.avantasia.net
STAHLMANN: New album "CO2" out now!
The new album "CO2" is out today in Europe, available as CD, Digipak and strictly limited boxset!
In case you haven't checked out the amazing video for "Plasma" yet, here you go:
https://www.youtube.com/watch?v=GlOnTkQbcgc


OHRENFEINDT: First single "Motor An", Tourdates and Release Party!


OHRENFEINDT have just unleashed their first single from the upcoming album "Motor An!" (out on September 18th).

Digital single and audio clip are available now: https://www.youtube.com/watch?v=BVZBbhZOQig

On September 17th, all fans and friends from Hamburg should stop by at the official OHRENFEINDT Release Party @NIGHT LIGHT, St.Pauli/Hamburg (Germany)

Tourdates:
29.08.2015 Schwarzenbek, Stadtvergnügen
11.10.2015 Nürnberg, Brown Sugar (Chris Laut SOLO show)
16.10.2015 Kiel, Räucherei
21.10.2015 Nürnberg, Hirsch
22.10.2015 (CH) Pratteln, Z 7
23.10.2015 Köln, Underground
24.10.2015 Hannover, Musikzentrum
05.11.2015 Berlin, Magnet
06.11.2015 Fulda, Kreuz,
07.11.2015 München, Backstage
13.11.2015 Bochum, Matrix
14.11.2015 Leipzig, Hellraiser
19.11.2015 Ludwigsburg, Rockfabrik
20.11.2015 Affalter, Zur Linde
21.11.2015 Aschaffenburg, Colos-Saal
18.12.2015 Burglengenfeld, VAZ Pfarrheim
26.12.2015 Hamburg, Gruenspan
22.01.2016 Bremen, Aladin
23.01.2016 Celle, CD-Kaserne


Waken Eyes - Exodus
Waken Eyes was started early 2013 by Tom Frelek after his old band had gone on hiatus. Tom was still playing in his own instrumental band but wanted to create a prog album that was heavy, melodic, cinematic and with vocals.

The inspiration for writing the album came from many different sources like: music, paintings and movies. Musically the inspiration came mainly from classical composers like Chopin, Mozart, Stravinsky and soundtrack composers like Hans Zimmer, James Newton Howard, Danny Elfman and others. Tom's inspiration, when it comes to guitar players are Joe Satriani, Paul Gilbert, Jimi Hendrix, Stevie Ray Vaughan, Al Di Meola, Michael Romeo, John Petrucci and B.B King.

When Tom finished writing all the demos for the album he already had musicians in mind to play on this record. Marco Minnemann was one of those guys he wanted to get after hearing him play on Paul Gilbert's spaceship one DVD. Hearing how amazingly talented Marco was struck him to send him an email with a few demos attached. He complimented the demos and agreed to play. He completely added so much life to the songs and Tom was almost in tears at one point! The rest is history!

After Marco recorded all the drums (in 3-4 days!) he sent upgraded demos to Mike Lepond of Symphony X as he's an amazing musician. He recorded his parts fairly quickly. Needless to say Mike's playing was superb and brought the tracks to life!

As for vocals, Tom got Henrik Bath to sing on the album. Tom heard of Henrik and his band Darkwater from a good friend of his. Tom was instantly blown away by his vocal ability. He contacted Henrik and sent him the demos with Marco and Mikes' parts on them. The recording process started shortly after. The life that Henrik brought to this album is indescribable. There is so much passion and honesty in how Henrik sings. Tom had many "wow" moments when Henrik sent over his vocal takes.

The theme of the album is about being fearless and every song has something to do about fearlessness. The theme came from the struggles of everyday life that everyone deals with. How people, emotions, media, governments can enforce fear upon you to make you think a certain way to more or less control you. It's an album for those who struggle to stand up for themselves and can't let their voice be heard.
Certain songs have lyrical ideas about war, media, falling in and out of love, spirituality and faith, good and evil. To sum it up, it is an album about hope. Sounding dark at times but with hope at the end of the tunnel.

"Exodus" is a very impressive and diverse album that will surely appeal to fans of progressive metal, progrock and melodic metal. The album has a great mix of catchy melodies, challenging instrumental parts and epic cinematic movements that will surely capture the attention of the musical community. Everything comes together perfectly in the title track that ends the album with its 18 minutes long epic filled with melodies, progressive parts and a good dose of feeling.
Tracklisting:
01. Cognition
02. Aberration
03. Deafening Thoughts
04. Back To Life
05. Palisades
06. Cornerstone Away
07. Still Life
08. Arise
09. Across The Horizon
10. Exodus

Waken Eyes presents an impressive debut album with "Exodus", don't miss out!

Waken Eyes line-up:
Henrik Båth [Darkwater] – Vocals
Mike Lepond [Symphony X] – Bass
Tom Frelek – Guitars/Keyboards/Orchestration
Marco Minnemann [The Aristocrats, Steven Wilson, Joe Satriani] - Drums

Waken Eyes discography
2015: Exodus [Ulterium Records]

Mixed by: Johan Örnborg and Andre Alvinzi at Fascination Street Studios
Mastered by: Jens Bogren [Symphony X, Opeth, Kreator] at Fascination Street Studios
Front cover by: Nick Chou
Logo Design: Markus Sigfridsson [Darkwater, Harmony]
Layout: Jan Yrlund [Delain, Korpiklaani, Apocalyptica]

Additional keyboards on "Cognition": Piotr Sopa
Additional vocals on Cornerstone Away: Kristine Bishop
Additional lyrics and melodies on "Back To Life" and "Palisades": Michael Monteiro
EKTOMORF to release new album "Aggressor" on October 23rd!


Hungarian neo thrash masters EKTOMORF are one of the most consistent forces in the heavy music scene. A band that never disappointed their fans and stood true to what they are: a powerful, unstoppable groove machine!
Following their "Retribution" album (which was released in early 2014), another successful headliner tour and numerous festival gigs, the band around charismatic frontman Zoli Farkas now presents its new album. Continuing their no-nonsense philosophy, the title 'Aggressor' is not misleading at all - in fact this new piece of work definitely is the band's heaviest and most energetic to date.

Also "Aggressor" is a return to some old EKTOMORF marks from earlier days, like the Eastern European gypsy harmonies and grooves, which give a special dark and unique atmosphere to the album.
Once again EKTOMORF of course worked with highly-acclaimed Danish producer Tue Madsen, who is a stable part of the team and perfectly understands the musical visions of EKTOMORF.
The band is proud to present legendary Cannibal Corpse vocalist George "Corpsegrinder" Fisher with a guest appearance on 'Aggressor'. Zoli comments:

"We are friends with the Cannibal Corpse guys since a long time. Last year in November I spoke to George (Fisher) about doing a song together. The recent Budapest show of Cannibal Corpse then was the perfect opportunity to meet and record his parts. So I took small home recording studio gear with me and recorded vocals with George in the dressing room before their show. It was fun and turned out killer! The song's title is "Evil By Nature" and you can be sure that it will smash your face!"

"Aggressor" tracklisting:

01. Intro
02. I
03. Aggressor
04. Holocaust
05. Move On
06. Evil By Nature
(feat. George "Corpsegrinder" Fisher)
07. You Can't Get More
08. Emotionless World
09. Eastside
10. Scars
11. Damned Nation
12. You Lost
13. You're Not For Me
14. Memento


RIVERS OF NIHIL Enter The Billboard Charts with "Monarchy"!

Announce North American Tour Dates With Hate Eternal

"'Monarchy' is not only their darkest record to date, but their most dynamic, atmospheric and powerful" - 9/10 Outburn Magazine

"'Monarchy' is the gold standard for extreme, technical, progressive, and passionate death metal right now, and it probably won't change any time soon." - Heavy Blog is Heavy

Last Friday, RIVERS OF NIHIL released their sophomore album "Monarchy" via Metal Blade Records. Today the album entered the following Billboard Charts:

#17 Heatseeker
#32 Hard Music
#56 Independent

Guitarist Brody Uttley on the success of the new album, "We are incredibly pleased with the positive response that Monarchy has received. In the digital age of music it has become harder and harder to get people to actually buy music and support their favorite bands. We are a lucky group of guys to have such an amazing and supportive fanbase. See you all very soon!"

In support of "Monarchy" the band will hit the road this fall alongside Hate Eternal, Misery Index and Beyond Creation. The tour starts October 27th in Boston, MA.

Fans can purchase the album, which No Clean Singing calls "…a pinnacle of the band's union of atmospheric and progressive aims" on iTunes, Amazon, Google Play, Bandcamp or directly fromMetal Blade Records. European fans can order their copy HERE.

The album can be streamed via Apple Music and Spotify.

The band's video for the song "Sand Baptism" which was directed by David Brodsky (GWAR, Whitechapel, Black Dahila Murder) can be viewed HERE.

The seasonal concept that began with spring on "The Conscious Seed of Light" continues, of course, with "Monarchy", as it welcomes the oppressive heat of summer. The story takes place millions of years after the events in "The Conscious Seed of Light". Adam Biggs, who also serves as the band's primary lyricist, explains: "The Earth has been transformed into a vast desert wasteland, where after aeons of lifelessness, new beings begin to take shape and begin their journey as shepherds of the planet. But after a while, a class system forms from a sun-worshiping religious dictatorship, and these beings start to lose their way. Only the guidance of an ancient earthly force can help them save themselves as well the planet."

RIVERS OF NIHIL On Tour With Hate Eternal, Misery Index and Beyond Creation:
10/27: Boston, MA @ Brighton Music Hall
10/28: Baltimore, MD @ Ottobar
10/29: New York, NY @ Webster Hall
10/30: Rochester, NY @ Flour City Station
10/31: Cincinnati, OH @ Mad Frog
11/03: Chicago, IL @ Reggie's
11/04: Minneapolis, MN @ Skyway Theater Studio
11/05: Winnipeg, MB @ Zoo Cabaret
11/06: Regina, SK @ Riddell Centre
11/07: Calgary, AB @ Dickens Pub
11/10: Vancouver, BC @ Rickshaw Theater
11/11: Seattle, WA @ Studio Seven
11/12: Portland, OR @ Dante's
11/13: Petaluma, CA @ Phoenix Theater
11/14: Glendale, CA @ The Complex
11/15: Tempe, AZ @ Club Red % (w/ Cattle Decapitation)
11/16: Las Vegas, NV @ Las Vegas County Saloon
11/18: Denver, CO @ Marquis Theater
11/20: Ft Worth, TX @ Tomcats
11/21: Austin, TX @ Dirty Dog
11/22: New Orleans, LA @ Siberia
* Denotes Hate Eternal only
% With Cattle Decapitation


For More Info Visit: https://www.facebook.com/riversofnihil https://twitter.com/riversofnihil
https://www.youtube.com/user/Riversofnihilpa
BATTLECROSS Enter Billboard Charts With Third Album "Rise To Power"

"Battlecross is well on its way…to become one of metal's most powerful forces" - 10/10 Outburn Magazine

"A lean, mean, ass-kicking machine that doesn't want to quit kicking your ass until there's nothing left for it to kick" - Heavy Blog is Heavy

Last Friday Motor City thrashers BATTLECROSS released their long awaited third album "Rise To Power" via Metal Blade Records. This highly anticipated release entered the following Billboard Charts:

#103 Top 200 Current Albums
#137 Top 200 Albums
#4 Heatseeker
#14 Hard Music
#36 Rock
#23 Independent


Guitarist Tony Asta comments: "We love our fans and I often say they are the best on the planet. You know it must be true because we are proud to announce "Rise To Power" charted well, thanks to you. Thank you all for your support, see you all on the road!"

The album that Metal Sucks describes as "quite appealing, coming off as an accomplished synthesis of a wide range of styles…" can be purchased on iTunes, Amazon, Google Play,Bandcamp and directly from Metal Blade Records.

The album can be streamed via Apple Music and Spotify.

A video for the song "Absence" is available for viewing HERE. The video was directed by David Brodsky of My Good Eye (Whitechapel, Revocation, Cannibal Corpse, GWAR).

"Rise to Power" was produced by Jason Suecof, and mixed/mastered by Mark Lewis at Audiohammer Studios. The cover art was completed by Hungarian artist Péter Sallai (Sabaton, Sacred Steel).

BATTLECROSS are currently on the road with label-mates GWAR and Butcher Babies on a North American tour stopping in Tulsa, OK and wrapping up September 18th in Rochester, NY. Following a short break BATTLECROSS will rejoin GWAR on the road alongside Born of Osiris (Cryptopsy in Canada) starting October 7th in Cincinnatti, OH and wrapping up November 28th in Orlando, FL.

BATTLECROSS
Tour w/ GWAR and Butcher Babies
08/31: Tulsa, OK @ Cain's Ballroom
09/01: San Antonio, TX @ Alamo City Music Hall
09/02: Baton Rouge, LA @ Varsity Theater
09/03: Mobile, AL @ Soul Kitchen
09/04: Birmingham, AL @ Iron City
09/05: Spartanburg, SC @ Ground Zero*
09/06: Winston-Salem, NC @ Ziggys
09/08: Wilmington, NC @ Ziggys By the Sea
09/09: Jacksonville, FL @ Freebird Live
09/10: Chattanooga, TN @ Track 29
09/11: Sauget, IL @ Pop's
09/13: Clifton, NJ @ Dingbatz*
09/14: Poughkeepsie, NY @ The Chance
09/15: So. Burlington, VT @ Higher Ground
09/16: Reading, PA @ Reverb
09/17: Huntington, NY @ The Paramount
09/18: Rochester, NY @ Water Street Music Hall

BATTLECROSS
Tour w/ GWAR and Born Of Osiris:
10/07: Cincinnati, OH @ Bogarts
10/08: Milwaukee, WI @ The Rave
10/09: Minneapolis, MN @ The Cabooze
10/10: Winnipeg, MB @ Garrick Centre**
10/12: Saskatoon, SK @ O'Brian's Event Centre**
10/13: Calgary, AB @ MacEwan Ballroom**
10/14: Edmonton, AB @ Union Hall**
10/16: Vancouver, BC @ Commodore Ballroom**
10/17: Spokane, WA @ Knitting Factory
10/18: Boise, ID @ Knitting Factory
10/19: Portland, OR @ Roseland Theater
10/20: Seattle, WA @ Showbox SODO
10/23: Las Vegas, NV @ Fremont Country Club
10/25: San Francisco, CA @ The Regency Ballroom
10/26: Reno, NV @ Knitting Factory
10/28: Tempe, AZ @ The Marquee
10/29: Albuquerque, NM @ Sunshine Theater
11/02: Urbana, IL @ Canopy Club
11/04: Grand Rapids, MI @ Orbit Room
11/05: Indianapolis, IN @ The Vogue
11/06: Detroit, MI @ Harpo's
11/07: Buffalo, NY @ The Town Ballroom
11/08: Cleveland, OH @ Agora Theater
11/09: Washington, DC @ 9:30 Club
11/11: Norfolk, VA @ The Norva
11/12: Philadelphia, PA @ Electric Factory
11/13: New Haven, CT @ Toad's Place
11/14: Worcester, MA @ The Palladium
11/17: Asheville, NC @ The Orange Peel
11/18: Nashville, TN @ Exit/In
11/19: New Orleans, LA @ House of Blues
11/20: Dallas, TX @ Gas Monkey Live
11/25: Atlanta, GA @ The Masquerade
11/27: Ft. Lauderdale, FL @ Revolution
11/28: Orlando, FL @ Venue 578
*Off Date - BATTLECROSS Headline Show*
**Crytopsy Providing Direct Support

BATTLECROSS' previous album, "War of Will," debuted at #134 on the Billboard Top 200 chart upon its release in July of 2013. This was the band's first ever Billboard chart debut! "War of Will" also peaked at #3 on the US iTunes metal chart on the day of release. Watch the music video for "Never Coming Back" now at metalblade.com/battlecross .

http://battlecrossmetal.com http://www.facebook.com/battlecrossmetal
http://twitter.com/battlecross https://www.youtube.com/user/BattlecrossMetal
ACT OF DEFIANCE Makes Billboard Top 200 Chart Debut
Announce Their First Official North American Tour Co-Headlining With Allegaeon

ACT OF DEFIANCE, featuring ex-Megadeth members, Chris Broderick (guitars) and Shawn Drover (drums), have debuted at #24 on the Billboard Top 200 Current charts with their inaugural recording effort, Birth and The Burial, via Metal Blade Records. The other chart number positions are listed below.

Billboard chart numbers:
#124 Top 200 Current Albums
#171 Top 200 Albums
#6 Heatseeker
#18 Hard Music
#44 Rock
#28 Independent


ACT OF DEFIANCE are now streaming their entire new, debut metal masterpiece offering atmetalblade.com/actofdefiance.

Look for them to embark on their first-ever national tour, co-headlining with Allegaeon starting Oct 22nd. All dates can be found at facebook.com/actofdefiancemusic.

In a time of endless sub-genre classifications, ACT OF DEFIANCE's highly anticipated debut offering simply delivers 100% in-your-face, uncompromising heavy metal.

With a hefty resumé that chronicles time spent riffing and shredding in Jag Panzer, Nevermore, and a seven-year stint in Megadeth, Chris Brodericks pedigree speaks for itself. Furthermore, joined by powerhouse drummer - and fellow Megadeth alumnus and former Eidolon drummer - Shawn Drover, bassist Matt Bachand (Shadows Fall) and vocalist Henry Derek (ex-Scar The Martyr), the band are a truly formidable metallic behemoth. Birth And The Burial is ten tracks of armor-plated, state of the art heaviness.

Follow Act of Defiance online: https://www.facebook.com/actofdefiancemusic
https://instagram.com/actofdefiance https://twitter.com/actofdefiance1
https://twitter.com/chris_broderick https://twitter.com/shawndrover
https://twitter.com/mattowsfall https://twitter.com/totheboyelis
BLOOD DIVISIONS Self-Titled Digital EP Available now on Metal Blade Records

The self-titled Digital EP from new supergroup BLOOD DIVISIONS is available now on Metal Blade Records. BLOOD DIVISIONS features a who's who of metal musicians, including Chris Jericho, Dave Austin, Ralph Santola, Terry Butler, Greg Gall, Bill Owen, John Mahoney and Ben Meyer. The Digital EP features two tracks, the first being a cover of the Nasty Savage track "The Morgue" and the second is a cover version of the Scorpions classic "Top of the Bill".

The EP can be streamed on Spotify and Apple Music and is also available for purchase on iTunesand Amazon.

A portion of the proceeds from sales of the self-titled EP will benefit Rock & Rescue a charity helmed by acclaimed producer Jay Ruston as well as the Warren County Tennessee Humane Society.

Vocalist Chris Jericho on BLOOD DIVISIONS: "BLOOD DIVISIONS is an all star collection of some of the most talented musicians to ever come from the legendary southern Florida metal scene. Being a HUGE fan of all of these musicians and their legendary bands, especially Nasty Savage, when David Austin himself asked me to lay down the vocals, I responded immediately, 'YES! What songs do you want me to sing and how many studded leather gauntlets can I wear?' I'm so honored and proud to be a part of the project and very excited with the results. Trust me, it's going to tear all of your fuckin' heads off, in the best possible way!"

BLOOD DIVISIONS features:
Chris Jericho - vocals
Dave Austin - guitars (Nasty Savage)
Ralph Santola - lead guitar (Death, Obituary, Testament, Iced Earth)
Terry Butler - bass (Obituary, Death, Denial Fiend, Massacre)
Greg Gall - drums (Six Feet Under)
Bill Owen - lead guitar (Purgatory)
John Mahoney - lead guitar (Fester)
Ben Meyer - lead guitar (Nasty Savage, Low Brow, Gardy Loo)

BLOOD DIVISIONS Track Listing:
"The Morgue" - Nasty Savage cover
"Top of the Bill" - Scorpions cover

For More Info Visit: https://www.facebook.com/Blooddivisions
MOTOR SISTER announce first ever UK tour in January
MOTOR SISTER who feature Mother Superior founder, guitarist, and vocalist Jim Wilson fronting the band, with Anthrax's Scott Ian on guitar, Pearl Aday on backing vocals, Joey Vera on bass, and John Tempesta on drums have announced they will hit the UK for the first time ever in January 2016 to play ten in-your-face shows. And they can't wait:
Jim Wilson - "Motor Sister in the UK! Get down and get with it!"
Scott Ian – "Motor Sister was born at a crazy party in the jam room at our house, just the five of us rocking our asses off. And now we get to bring that party to the UK!!! It's a privilege my friends! See you soon.
Pearl Aday – "We love the UK. No better place to start bringing Motor Sister to the world. We'll see you there, friends! Cheers, love, rock."
Check out the video for "Beg, Borrow, Steal" here: https://www.youtube.com/watch?v=S8QnqsEoxps
See them up close here:
MOTOR SISTER + Jared James Nichols + The Bastard Sons
January 2016
6th MILTON KEYNES – Craufurd Arms
7th LOWESTOFT – Aquarium
8th GRIMSBY – Yardbirds
9th NOTTINGHAM – Rescue Rooms
10th WOLVERHAMPTON – Slade Rooms
12th GLASGOW – Cathouse
13th YORK – Fibbers
14th MANCHESTER – Sound Control
15th SHEFFIELD – Corporation
16th LONDON – Underworld
Support will come from JARED JAMES NICHOLS who recently release his debut album Old Glory And The Wild Revival and opening will be The Bastard Sons.
MOTOR SISTER was originally assembled to jam for Scott Ian's fiftieth birthday party. Thanks to Scott's wife Pearl Aday, who has been working on her solo career with Mother Superior front man Jim Wilson for years, all it took was a quick phone call and the stage was literally set for Scott's dream gig.

Enthralled at the idea of making a record of his favorite Mother Superior songs, Ian emailed producer Jay Ruston (Anthrax, Steel Panther) and asked if he thought it was possible to recapture the same spontaneous energy MOTOR SISTER generated at their makeshift gig, and if an album could be recorded quickly.

Ride was released to great acclaim earlier this year on Metal Blade Records and debuted on the Billboard charts after its first week of release. The album cracked the top 10 with the #9 position on the Billboard New Artist (Heatseekers) chart.
"All you really need to know about Ride is that it kicks a massive amount of ass" Revolver Magazine
"The retro rock and roll band that you didn't even know you were missing in your life until right now!" MetalInjection.net
"This is kick ass classic sounding hard rock! Blazing guitars, great vocals and songs! Everything I love most about hard rock music in one killer album." Eddie Trunk
Australian based thrashers Harlott debut new track on Rock Hard Germany


Forged in the eastern suburbs of Melbourne, Australia, Harlott are one of the finest examples of modern thrash. Taking their influence from the 80's bay area thrash scene, and blending it with the Teutonic melody and grit, they focus on high energy, up tempo music with lyrical influence from war, religion, chaos, and the human condition. Unrivaled in live concerts, an aggressive recognizable sound, clinical musicianship, and a classic 'Aussie' sense of humor have earned Harlott a strong and dedicated fan base, which continues to grow every day.

Harlott's debut release Origin blew audiences away with its unrelenting speed, ferocious sound, and hook driven riffs, and did much to solidify Harlott as an up and coming force to be reckoned with. Their follow up release, Proliferation, proves that the band means business, and surpasses the fury heard on their previous album, Origin.

In collaboration with Rock Hard Germany, we now present the second single 'Cross Contamination' exclusive at RockHard.de HERE!

Listen to the first single 'Denature' and pre-order your copy of Proliferation at metalblade.com/harlott.

Harlott are hungry for global exposure, and in October 2015, they will be dominating Europe with Canada's Annihilator, the first step in what is to be a long and grueling career in total devastation!

Annihilator + HARLOTT + Archer

30/09/15 UK - Birmingham - O2 Academy
01/10/15 IE - Dublin - Button Factory
02/10/15 UK - Glasgow - O2 ABC2
03/10/15 UK - Sheffield - O2 Academy
04/10/15 UK - London - O2 Academy Islington
06/10/15 FR - Paris - Divan du Monde
08/10/15 ES - Bilbao - Santana 27
09/10/15 PT - Porto - Hard Club
10/10/15 ES - Madrid - But
11/10/15 ES - Barcelona - Razzmatazz 2
13/10/15 CH - Pratteln - Z7
14/10/15 IT - Brescia - Circolo Colony
15/10/15 SI - Ljubljana - Kino Siska
16/10/15 SR - Belgrade - Dom Omladine
17/10/15 RO - Bucharest - Maximum Rock Festival
19/10/15 HU - Budapest - A38
20/10/15 AT - Wörgl - Komma
21/10/15 AT - Wien - Szene
22/10/15 CZ - Zlin - Masters of Rock Café
23/10/15 PL - Krakow - Fabryka
24/10/15 PL - Warsaw - Proxima
25/10/15 DE - Berlin - Lido
27/10/15 DK - Kolding - Godset
28/10/15 DE - Hamburg - Grünspan
29/10/15 DE - Aschaffenburg - Colos-Saal
30/10/15 DE - München - Backstage Halle
31/10/15 DE - Karlsruhe - Substage
02/11/15 DE - Nürnberg - Hirsch
03/11/15 LU - Luxemburg - Den Atelier
04/11/15 NL - Tilburg - 013
05/11/15 NL - Haarlem - Patronaat
06/11/15 BE - Kortrijk - De Kreun
07/11/15 DE - Bochum - Zeche
08/11/15 DE - Köln - Underground

HARLOTT is:
Andrew Hudson - Guitar/Vocals
Ryan Butler - Lead Guitar
Tomas Richards - Bass
Tim Joyce - Drums

https://www.facebook.com/HarlottOfficial
JOE BONAMASSA RELEASES "LIVE AT RADIO CITY MUSIC HALL" ON 2ND OCTOBER DOVETAILS OCTOBER 2015 UK TOUR
Joe Bonamassa will release 'Live At Radio City Music Hall' on 2nd October via Provogue/Mascot Label Group. The live concert will be released on DVD+CD, Blu-ray+CD, and 180 gram 2LP vinyl with free MP3 download code.
The live release was filmed over his two sold out shows on 23rd and 24th January 2015 at the iconic Radio City Music Hall in the heart of New York City. It's the largest and most iconic music theatre in the world. Joe's father would take Joe to Radio City as a boy to see shows in the city, and it had forever been his dream venue to play as a musician.
Download a free mp3 of "One Less Cross To Bear" taken from the album "Live At Radio City Music Hall" by clicking the following web link – www.unlock.fm/4uw
Live At Radio City Music Hall dovetails Joe Bonamassa's 8- date October 2015 UK tour, which kicks off at Newcastle Metro Arena (Wednesday Oct 21), followed by dates at Liverpool Echo Arena (Friday Oct 23), Leeds First Direct Arena (Saturday Oct 24), Nottingham Capital FM Arena (Sunday Oct 25), Cardiff Motorpoint Arena (Tuesday Oct 27), Bournemouth BIC (Wednesday Oct 28), and two dates at Brighton BIC (Friday October 30 & Saturday Oct 31). Tickets are available from www.eventim.co.uk or 0844 493 6666. Click here for more info about the live album - http://bit.ly/1JxPLKQ
Joe Bonamassa "Live At Radio City Music Hall" CD TRACK LISTING:
1. I Can't Be Satisfied
2. One Less Cross To Bear
3. Living On The Moon
4. I Gave Up Everything For You, 'Cept The Blues
5. Dust Bowl
6. Trouble Town
7. Still Water
8. Different Shades Of Blue
9. Happier Times
10. Never Give All Your Heart
11. Hidden Charms
12. Love Ain't A Love Song
13. So, What Would I Do?
Joe Bonamassa "Live At Radio City Music Hall" VIDEO TRACK LISTING:
1. Bite The Big Apple (titles)
2. Dust Bowl
3. Trouble Town
4. Still Water
5. Different Shades Of Blue
6. The Huckleberries - Introducing the acoustic band
7. Black Lung Heartache
8. Happier Times
9. Never Give All Your Heart
10. Hidden Charms
11. Living On The Moon
12. I Can't Be Satisfied
13. Double Trouble
14. One Less Cross To Bear
15. Love Ain't A Love Song
16. Introducing the Electric Band
17. "Happy Birthday Mom!"
18. I Gave Up Everything For You, 'Cept The Blues
19. So, What Would I Do?
Bonus Featurette:
1. Bite The Big Apple - (behind-the-scenes) 45 minutes
Gone By Tomorrow have recently announced a series of UK tour dates for September with Opheon. With a brand new EP 'Blank Future' out really soon, you can be sure that these shows will be your first opportunity to hear the new material in the bands unique powerhouse performances.

Catch them at a show near you soon:

1st September Southampton, Talking Heads
4th September Hastings, Flairz
6th September Portsmouth, Drift

Blank Future EP Out 16th October 2015

In a music scene that has become so over saturated with sound-a-like cookie cutter bands, how does a band stand out above their peers? That is a challenge that Southampton 5 piece Gone By Tomorrow faced, and the end result is the new EP 'Blank Future'. Produced by Sam and Joe Graves at Innersound Studios (Asking Alexandria, Glamour of the Kill, Ben Bruce, Yashin), the EP is set for release on the 16th of October 2015.

Taking elements from many areas across the rock spectrum, Gone By Tomorrow have armed themselves with catchy choruses, shredding riffs, powerful dynamic breakdowns and much more to create an individual sound that sits within the metalcore genre, without getting lost amongst the crowd. With a solid fan base, earned from prestigious support slots, including The Word Alive, Our Last Night, Ghost Town, The Color Morale and Hacktivist, festival appearances such as Butserfest, Takedown and Messtival and a headline UK tour, Gone By Tomorrow are only heading up

'Blank Future' Tracklisting
1. Undefined
2. Outspoken
3. I Saved Latin, What Did You Ever Do
4. Here's To You, Dearest Enemy
5. Not The Only Ones
6. The Homecoming

Gone By Tomorrow are:
Lewis Smyth - Vocals
Luke Smithson - Guitar/Vocals
Aaron Slater - Guitar
Mike Barton - Bass
Samuel Brady - Drums

chART UK Children's Hospice Arts auctions are now in full swing!
EUROPE and BLACK STAR RIDERS very kindly signed a guitar and a drumhead to help us raise much needed funds.

Direct link to the auction: http://www.ebay.co.uk/itm/181822018277…

The money raised from the signed guitar would be used for our latest project: chART are honoured to be working with St Oswald's Children's Hospice Newcastle and Sage Gateshead in 2015/16. This will give the young adults and children of St Oswald's the opportunity to take part in some exciting music sessions organised by the fabulous Sage Gateshead for a whole year. We are donating the initial £2000 (Funded by the auction of guitars signed by Bryan Adams and Queen) but we need to raise a further £3000 to fund the provision of activities over the course of the year. The funds already raised will enable participation in different genres of music during the first three quarters of the year.
Options will include beat box, classical, pop, rock, steel and instrument making with the aim to provide a celebration of the different genres in the fourth quarter with the additional funds raised from this appeal.
Each activity will have roughly 4 visits from Sage Gateshead and provide an interactive music making experience. All age ranges will be included over the year and each child's strength and abilities will be catered for. Music can play such an important role – the aim of these sessions is to give the children and young adults the opportunity to enjoy music they might not otherwise have experienced and to increase the confidence of the children and young adults, both as an individual and within the group.
Everyone at chART works voluntarily so all funds raised go directly to helping the children and their families. In addition to our volunteer teams, we work with Arts Professionals, developing contacts with individuals and organizations who can help us to bring the arts to hospices. We support arts and music therapists and artists in residence by identifying area's where we can help; our volunteers may work closely with them in arts, crafts, music and drama sessions."
Suzanne Price, chART – Children's Hospice Arts suzanneprice@chartuk.org
DRAGONY announce "Shadowplay" guest appearance by Zak Stevens:
As on our first album, we are once again thrilled to welcome a very special guest on our upcoming record, and this time it is none other than former SAVATAGE and TRANS SIBERIAN ORCHESTRA vocalist and current singer for CIRCLE II CIRCLE, Zak Stevens!

One of the most prolific and charismatic singers in the history of Metal, he has lent his voice to immortal classics such as "Edge Of Thorns", "Handful Of Rain" and "Dead Winter Dead", has just rocked the WACKEN OPEN AIR as part of a historical two stage performance with SAVATAGE and the TSO, and we are very honored to have Zak on board for our upcoming album "Shadowplay" (out fall 2015), where he will contribute guest vocals to the song "The Silent Sun"."

Here is a little teaser for you from the upcoming album:
https://www.youtube.com/ watch?v=Qhvz-XOQK4Q
This is definitely going to be stormy! German Doomsters AHAB are drawing closer to the release of their upcoming album The Boats Of The Glen Carrig, which is coming out worldwide on August, 28th via Napalm Records.


Today the four guys have unveiled a very nice studio video for the track "The Isle" which gives an
www.facebook.com/napalmrecords exclusive look and insight into the recording process. See them not only in the studio, but also live on tour on these upcoming dates:

29.10.15 FRANKFURT, D - ELFER CLUB
30.10.15 JENA, D - KASSABLANCA
31.10.15 HAMBURG, D - BAMBI GALORE
01.11.15 COLOGNE, D - UNDERGROUND
02.11.15 PARIS, FR - GLAZART
03.11.15 NANTES, FR - LE FERAILLEUR
06.11.15 STUTTGART, D - CLUB CANN
07.11.15 PRATTELN, CH - Z 7
08.11.15 HEIDELBERG, D - SCHWIMMBAD CLUB
12.12.15 NL - Eindhoven / Eindhoven Metal Meeting

For More Info Visit:
www.ahab-doom.de
www.facebook.com/AhabDoom
www.napalmrecords.com
Kagoule stream video for 'Made of Concrete'
Debut album Urth released 21st August 2015 via Earache // Band play Rough Trade East in-store on the day of release. New EU tour dates announced
Nottingham's Kagoule release their debut album Urth this Friday and are streaming the self-made video to their BBC Radio 6 Music playlisted single 'Made of Concrete'. Devised, shot and edited by the band in one day, the DIY video is an ode to David Lynch that asks a lot more questions than it answers. Watch now on YouTube.
Kagoule will celebrate the release of Urth with a free in-store show at Rough Trade East this Friday. The album is currently Rough Trade's Album of the Month and has already seen some incredible reviews.
Despite not being out of their teens, Kagoule have created an album of true depth and creativity, with MOJO labelling them "superior grunge-schooled rock" (4/5) and Kerrang! saying "the potential here is terrifying" (4/5).
Kagoule also announce some new tour dates, including upcoming shows with METZ and Sleaford Mods.
Urth can now be pre-ordered via iTunes and Earache Records.
Tour dates
Aug. 13 - Nottingham, UK - Rough Trade instore
Aug. 21 - London, UK - Rough Trade East instore
Sep. 17 – Vienna, Austria – Arena 3 Raum Bar w/ Ball Park Music
Sep. 18 – Berlin, Germany - Magnet
Sep.22 – Hannover, Germany - Lux
Sep. 25 – Dusseldorf, Germany – Zakk w/ METZ
Sep. 26 – Hambury, Germany – Reeperbahn Festival
Sep. 27 – Leipzeig, Germany - Ilses Erika w/ Ball Park Music
Sep. 28 – Prague, Czech Republic – Basement Bar
Sep. 30 – Cologne, Germany – Blue Shell w/ Ball Park Music
Oct. 01 – Brussels, Belgium - Witloof Bar @ Botanique
Oct. 03 – Portsmouth, UK – Dials Festival w/ Black Honey + Hooton Tennis Club
Oct. 09 – Nottingham, UK – Rock City w/ Sleaford Mods
Oct. 10 – Leeds, UK – Beacons Metro w/ Traams, Pins, Crushed Beaks
Oct. 18 – Manchester, UK – Carefully Planned Festival
Oct. 23 – All Years Leaving Festival w/ The Wytches, Speedy Ortiz, Chastity Belt
Operation Mindcrime
What would you do if you discovered the key to changing the way we view the world, the way we look at time, the way we travel, and could essentially change the human condition - for better or for worse?

The Key is part one of an epic musical trilogy from iconic metal vocalist Geoff Tate, and it initiates that very question within a web of international politics, the world economy and social ethos. It is the debut album under Tate's new Operation: Mindcrime banner, a creative platform that continues in the spirit of the historic album of the same name, spawning concepts as grand as the music, and intertwining the intensity of the former Queensryche vocalist's iconic past with the provocative, progressive mindset that has made him one of music's most resolute forces and frontmen.

Geoff Tate has sold more than 25 million records at the helm of Queensryche, the band he fronted for 30 years from their inception through 2012, earning three Grammy nominations, five MTV Music Video Award nomimations, and one MTV Music Video Award along the way. The landmark concept album Operation: Mindcrime thrust Tate's unique social consciousness, style and expertly crafted lyrics into the national spotlight in 1988, and was followed by Empire in 1990, the album that delivered Queensryche to arena-headlining status and sold more than three million albums on the back of hit singles and radio staples "Silent Lucidity" and "Jet City Woman." By the time the band released Promised Land in 1994, Geoff Tate was universally acknowledged as one of the greatest frontmen in rock and metal, and a driving force behind one of the most innovative bands in mainstream music. From Mindcrime and Promised Land through 2009's overlooked gem American Soldier - Tate's ambitious concept album that explores the consequences of war as told through the voices of veterans - Tate's 13-album tenure with Queensryche was marked by exploration, intrigue, bold risks and gratifying results.

The Keycontinues in that fine tradition.

"Musically, this album is quite adventurous," says Tate of his first release in a new worldwide deal with Frontiers Music SRL. "Of course there are key elements in the music, melody and phrasings that are really identifiable, but throughout my career I've opened my eyes and ears to new standards and arrangements, and that's what keeps things fresh and exciting as an artist - we've thrown out the rules for this record, and it's been really liberating. I'm a fan of old prog, and that music didn't stick to rules. It's inspiring and enjoyable to be able to explore, and it's great being in a position to write without constraints."

The results are a series of albums that don't languish in nostalgia, instead offering listeners an opportunity to delve into a world of ideas and inspiration that Tate has been nurturing for the better portion of the last decade. Instead of asking, "Who killed Mary?", Operation: Mindcrime now asks, "What are the implications of changing the world?"

"Like every album I've ever done, people will hear and experience it differently, and that is something that I look forward to," continues Tate. "Music is an intimate experience - your inspirations are unique to you, and will be heard differently through every set of ears and experiences - but isn't that really what makes art exciting? It inspires us all in different ways and for different reasons, and this album is no different. There are quite a few sections of this album that help propel the story with segues and dialogue, but the lyrics don't lay out a breadcrumb trail and tell the story in a linear fashion, there's a puzzle. We have several characters, and three other people singing lead vocals on the first album. That made it even more fun for me and helps give the album its own special character.

"Musically, there's quite a smorgasbord, we've played with sound and established a sound palate - heavy guitar, obviously, cool drumming... all the music is very sophisticated, and there are interesting time changes, the band is playing with different countings and we switch throughout each piece. We can perform the verse in one feel, the bridge in another, and transition to a new chorus, very challenging stuff and lots of different sounds that people probably haven't heard on one of my albums before - new and different guitar sounds and vocal treatments, very dynamic stuff."

Joining Tate on The Key are a hard-hitting cast of familiar faces and new collaborators: bass players Dave Ellefson [Metal Allegiance] and John Moyer [Disturbed, Adrenaline Mob], drummers Simon Wright [AC/DC], Scott Mercado [Candlebox] and Brian Tichy [Billy Idol, Ozzy Osbourne], guitarists Kelly Gray [Queensryche] and Scott Moughton [Geoff Tate], keyboardist Randy Gane [Myth] and vocalist Mark Daly [The Voodoos]. Tate makes one point exceptionally clear - Operation: Mindcrime isn't a band, it is a musical project of like-minded people uniting to achieve a common goal. While the songwriting rests predominantly on the shoulders of Tate, Gray and Gane, it's up to every contributor to add their influence and help color the landscape.

"The songs on these records tell a story, and each song is a scene or chapter - every scene is different. The words tell the story, the musical bed, the chord progressions and melodies, they set the pace. That's how I envisioned this album in total, very theatrical and definitely cinematic.

"How do we describe passion?" Tate asks in conclusion, cautiously answering his own question: "Music is a personal journey, and all you can do is write what moves you. That's what passion is - it's so difficult, yet it's such an important human emotion. There are moments on this record that really impact me, the questions raised and the music those questions are set to... I don't know if it will have that same effect on everyone else, but that's where my passion and their passion meet. I do this because I love doing it. I love touring and I love playing live, performing with like-minded people in front of like-minded audiences, and being there in the moment together when all of our passions collide."

And if, in the process, Geoff Tate can tell a story that turns people on end and keeps them talking long after the music has stopped playing? That's not just icing on the cake, that's what it's all about...
That is Operation: Mindcrime.
Tracklisting: Choices; Burn; Re-Inventing The Future; Ready To Fly; Discussions In A Smoke Filled Room; Life Or Death?; The Stranger; Hearing Voice; On Queue; An Ambush Of Sadness; Kicking In The Door; The Fall.

GEOFF TATE • Vocals, Keyboards, Saxophone
KELLY GRAY • Guitars, Vocals
SCOTT MOUGHTON • Guitars, Vocals
DAVE ELLEFSON • Bass
JOHN MOYER • Bass
MARK DAILY • Vocals
RANDY GANE • Keyboards
SIMON WRIGHT • Drums
SCOTT MERCADO • Drums, Dulcimer
BRIAN TICHY • Drums

Recorded by Kelly Gray